C-store retailers expect the "soaring" sales of meat-free products in January to maintain momentum well into 2020, as shoppers increasingly opt to incorporate vegan products into their everyday diets.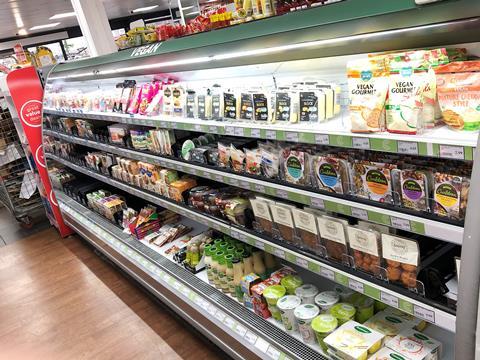 Sales of meat-free foods hit an estimated £816m in 2019, according to Mintel, and a record number of people signed up to the 2020 Veganuary pledge to forgo animal products for a month.
London Budgens retailer Andrew Thornton said Veganuary had been "a great success" for the store this year.
"Sales of vegan products soared and I expect the drive to continue as we move through 2020 and shopper awareness of the health and environmental impact of veganism grows.
"The increasing number of great-tasting vegan products being launched is helping too."
Peter Patel, of Costcutter Brockley, London, who invested in a dedicated vegan foods chiller last year, said the movement was here to stay. "We experienced a rise in vegan products in January, but I expect the momentum to carry on as increasing numbers of shoppers choose to follow so-called flexitarian diets.
"They appear to be doing it as much for health reasons as for ethical and environmental ones as vegan products are generally considered to be better for you."
According to Mintel research, the proportion of meat eaters who have reduced or limited the amount of meat they consume rose to 39% in 2019, while the number of Brits who have eaten meat-free foods grew from 50% in 2017 to 65% in 2019.
Raj Aggarwal, who owns two Spar stores in Leicestershire and Sheffield, also said that sales were up, but fulfilling the category's potential would require ongoing investment.
"Products need to be displayed and promoted correctly and that has to be sustained, which has a cost implication for the retailer – and costs are something many retailers will be keeping an eagle eye on this year," he added.
Sid Sidhu, owner of St John's Budgens in Kenilworth, Warwickshire, said: "Shoppers are increasingly switching to vegan products for their main meals and snacking. Sales spike on a Monday, probably in relation to Meat-Free Monday."
Dean Holborn, of Holborn's, Nutfield and Redhill, Surrey, has also seen vegan sales grow in store. "We've added a few vegan wines, although the category still accounts for a small share of sales. I do expect that to change, though, much in the same way as gluten-free has," he said.