Manufacturers of CBD oils, gummies and soft-drinks have just over one year in which to apply for Novel Food Authorisation or risk their products being removed from retailers' shelves.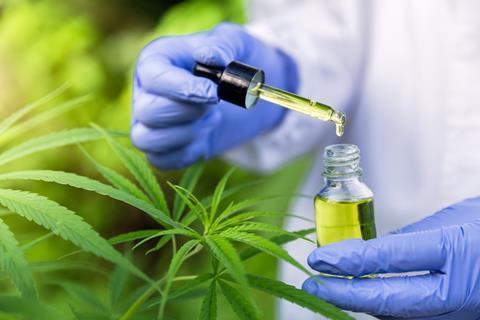 The UK's Food Standards Agency (FSA) has announced that all manufacturers of edible CBD products must apply by 31 March 2021.
Only products which have submitted a valid application will be allowed to remain on the market after this date and the legislation will be enforced by local authority Trading Standards officers.
Retailers will be able to continue selling their existing CBD products up until the 31 March deadline, "provided they are not incorrectly labelled, are not unsafe to eat and do not contain substances that fall under drugs legislation," the FSA added.
During the transition period following the UK's departure from the EU, applications should be submitted to the European Commission with a copy also sent to the FSA.
There is no charge for applying for novel food authorisation although the FSA told C-Store that it can take up to 17 months for the authorisation process to be completed or longer if not enough information has been included.
"The FSA's announcement only requires businesses to have submitted a valid application by 31 March 2021, not to have completed the authorisation process," a spokeswoman said.
"We would encourage businesses to start the process now to ensure their application is a good enough standard to pass validation by the deadline."
To date, no UK manufacturers have reached this standard, "but we know that some businesses have started the process," she added.
The FSA is also advising that women who are pregnant or breastfeeding or taking any medication should not consume CBD products, and that healthy adults should not consume more than 70mg a day (about 28 drops of 5% CBD) unless under medical direction.
This new precautionary advice is based on recent findings by the government's Committee on Toxicity (COT), it said.
COT chairman Professor Alan Boobis said: "My committee has reviewed the evidence on CBD food products and found evidence there are potential adverse health effects from the consumption of these products.
"We are particularly concerned about pregnant or breast-feeding women and people on medication.
"We don't know enough to be sure about such a risk but I am pleased with the sensible and pragmatic approach the FSA is taking. The committee will continue to keep these products under review in the months ahead."
CBD was confirmed as a novel food product in January 2019. Under the novel food regulations, foods or food ingredients which do not have a history of consumption before May 1997 should be evaluated and authorised before they can be placed on the market.
The novel food ruling does not apply to non-food products such as vapes, medicinal products and cosmetics.
A number of CBD manufacturers have welcomed the move, saying that it could provide greater clarity and trust in the market.
Vape Dinner Lady, which supplies CBD oral drops and chewable gems in addition to vape products, said the move would "bring order to a growing market and create a quality standard for all to follow, giving consumers increased confidence."
Chief marketing officer John Taylor told C-Store: "For Vape Dinner Lady the move is a welcome one which will help to streamline the market and end the current state of confusion and uncertainty for not only the industry, but for consumers and retailers alike.
"For the convenience retailers the news can only be of benefit, as we expect this announcement will bring greater clarity and allow an easier choice of which products to stock."
The Vitality CBD brand also said the ruling was "a big positive for the CBD industry as a whole, and particularly for CBD users."
"Greater oversight for the sector means higher quality standards being instituted, and best practises being followed across the board," a spokeswoman said.
The Cannabis Trades Association added: "Although we do not agree in full with all that is being proposed, we believe it is a positive step towards ensuring consumer safety and that CBD will be on the shelves for many years to come.
"As an association, we will continue to work tirelessly to maintain relationships with all the official agencies to ensure our members, their products and the entire industry maintains a Route to Compliance and will issue further statements and guidance outlining the steps the CTA are undertaking."
The CBD Global Summit, co-hosted by C-Store's sister magazine The Grocer will be taking place in London's Park Plaza on 16 and 17 March. Visit here for more information