Shoppers were given the chance to win a luxury holiday as part of the initiative.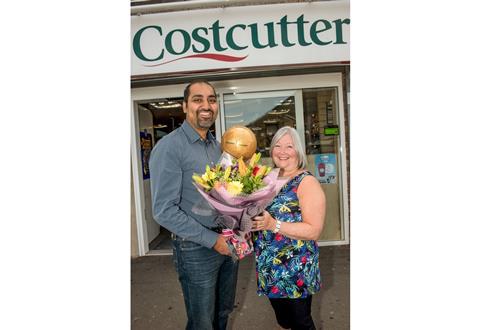 Costcutter Supermarkets Group (CSG) is celebrating the success of its 'Golden Balls' World Cup competition.
As part of the campaign, shoppers were encouraged to find special golden balls in their local Costcutter, Mace and Supershop stores and take a photo with a chance to win a luxury holiday. Clues were posted on CSG social media channels throughou the event.
The consumer competition, which ran for six weeks in partnership with Heineken, ended this week with shopper Anji Barrett (pictured) scooping the £10,000 luxury holiday prize, which was given to her by Naveen Sharm, owner of Costcutter Halifax.
The competition generated more than 31,000 unique page visits to the Costcutter store location finder and 3,500 views on its consumer website as well as a 28% uplift in orders of Heineken brands.
Costcutter brand manager Jenny Leetch said: "We're delighted with the campaign; it has proved that by engaging shoppers with eye-catching promotions and interactive games, we can really help our retailers drive sales. As well as the obvious sales success, it's been one of our most socially engaging campaigns to date, with increased reach, page likes and engagement."
Melvin Mourtray, of Costcutter Lurgan, added: "The week the Golden Ball was in-store was exciting; the in-store theatre, which Gordon Leonard our BDM helped us create, as well as activity on our local social media pages, made sure shoppers knew what was happening; our staff had a spring in their step and I felt like the store was a better place for it. I'm sure more people were in my store because of the Golden Balls competition and that I got more sales during the week."