Independent retailers are digging deep to maintain a positive outlook as availability problems mount amid the coronavirus crisis.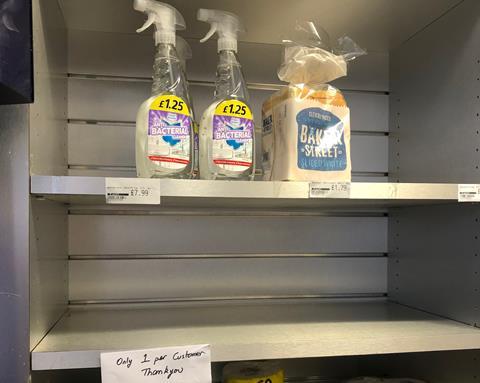 Late deliveries and poor availability have been reported by retailers across the country, as wholesalers and cash and carry depots fight to meet the unprecedented demand on their services.
Londis retailer Hiral Patel from Claygate in Surrey is having to close the store early most days so that he can top up at the local cash and carry.
"It's an unbelievably busy and stressful time. Availability is poor, particularly on areas like grocery and ambient. I'm having to close at 1pm so that I can top up at the cash and carry which is also closing at the earlier time of 3pm so it's a constant race against the clock. It's challenging for everyone though, staff in the depots are off sick and there are drivers and pickers missing. We just have to keep working hard, protect the business as best we can and look forward to the day when we hopefully, come out of this the other side," he said.
Jag Brarr of Londis Cricklade in Wiltshire also said that availability in his local Booker cash and carry was being further challenged as a result of being "full of lots people who aren't regulars." "It's easy to get an account there and you can use other people's cards," he said.
In Manchester, Spar retailer Paul Stone was generally positive about availability to his stores, with egg supplies being the only real issue. He has been using Brakes as an alternative and packing eggs into sixes himself.
On the Isle of Wight Charles and Linda Brading of Vic's stores are trying to make the best of the challenging situation.
"Last week availability was about 50% but today's delivery was a bit better and we had about 65%, we just have to work with what we've got," Linda said.
In Walsall, Nisa retailer Amrit Pahal said deliveries had been "terrible."
"In Friday's delivery I didn't get pasta, bleach or wipes and about one-tenth of the toilet roll I ordered.
"Fresh deliveries are meant to be three times a week, they moved it to once a week and keep changing it. I'm going to a local dairy for milk and 5am every morning, and getting bread from Roberts Bakery. I'm using a restaurant supplier for pasta," he said.
Costcutter retailer Chaz Chahal of Chahal Retail in Worcestershire is also experiencing some availability challenges but is determined to maintain a "calm head".
"Deliveries are taking longer than normal and availability isn't quite there, particularly on household, but it's understandable and I'm not going to do Nisa down," he said.
"We are all being hit, even local suppliers are having challenges now, I can't get eggs from my local supplier because the farm is self-isolating. These are exceptionally difficult times for businesses large and small and while it's hard and frustrating, we all need to calm down and care a bit more. We're all just trying to do our best."
Suppliers respond
Responding to the situation, a Nisa spokesman said: "We've been overwhelmed with the way Nisa partners, colleagues and suppliers have gone above and beyond to help get food into local communities during these extraordinary times.
"The whole food industry is working very hard to feed the nation. Nisa is playing its part, but we are all having to do things differently in these uncertain times, as we work to try and meet unprecedented demand.
"We are experiencing extraordinary demand for our products. Like many in the industry, in order to ensure food is evenly distributed, we are now having to apply allocations and try to manage volumes fairly on certain products."
Nisa is also addressing its rebate process to ensure that it remained "fair and consistent throughout these extraordinary times," the spokesman added.
Booker has also made a number of changes to its depot rules. To try and ease the flow of people, customers who operate a retail or catering business are now the only customer groups with access to branches from opening until 11am. Small business users can then access to branches after 11am.
Children under 16 are no longer allowed in branches and only two people can shop per customer card – one of which must be the named card holder of the account.
Last week Warbutons suspended deliveries to independent c-stores.