Independent retailers are doing their best to "keep calm and carry on" in the face of mounting uncertainty over the impact of Brexit on the food supply chain and their businesses.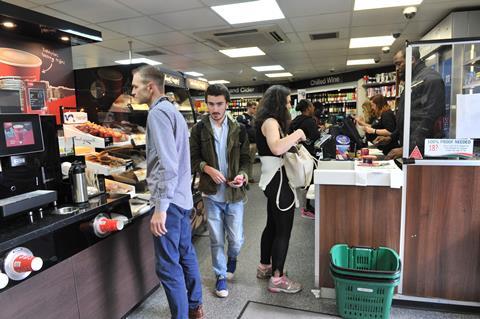 Chris Pollard, owner of Barlby Village Stores in Selby, North Yorkshire, said that a "fair" summer of sales had left him feeling cautiously optimistic about the months to come, despite predictions of food shortages and negative impact on consumer spending.
"The summer was good for us and we're actually up 17% on last year," he said. "The Poundzone that we introduced last year is proving popular in the current climate.
"I'm feeling fairly optimistic about the months ahead. At the end of the day, what choice do I have? There's nothing I can do about Brexit so it's pointless me worrying," he said.
Romi Mediratta, of Londis Lane End in High Wycombe, agreed. "The summer has been up and down and on the whole I'm feeling cautiously optimistic about the months to come, despite all the scaremongering about Brexit.
"A handful of shoppers have been stockpiling dried pasta, ambient sauces and tinned veg, but I feel like it's all a bit of an overreaction. All this panic over Brexit will pass in time and the retail industry is well used to weathering storms. I'm just planning to keep doing my best and reassure my customers where possible."
However, Manny Patel, of Manny's in Long Ditton, Surrey said he would be holding off making any significant investments in the near future.
"I have seen a slowdown in trade throughout this year and this summer has been quiet for us. I think Brexit fears are playing a role, but we have no choice but to keep soldiering on in the hope that things will return to normal," he added.
Sally Croft, of Croft Stores, Silverstone, Northamptonshire, added: "Brexit is a concern as there is still so much uncertainty, particularly for stores with a post office as the impact on labelling requirements is still unclear. We'll just keep calm and carry on."
Raaj Chandarana, of Tara's News in High Wycombe, said he was "just getting on with business".
Imports of almost a third of the UK's food could be subject to disruption in the event of a no-deal Brexit, a letter to PM Boris Johnson, backed by former PM Gordon Brown and the GMB union, warned this week.
Two-thirds of shoppers (61%) expect there to be food shortages as a result of Brexit, an online survey of 1,000 consumers conducted by HIM last month found.