KP Snacks has committed to spending a further £1m to drive sales of its Mexican sharing product: McCoy's Muchos with a new campaign.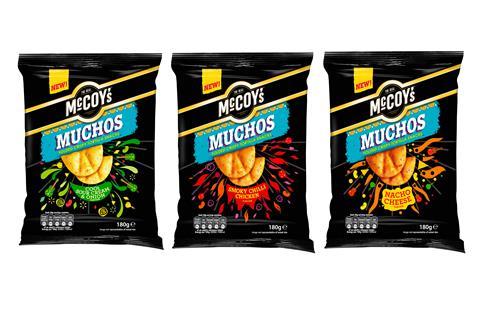 Running until 5 November, the activity will include out-of-home advertising appearing on six-sheet boards nationwide and also in-store with displays for Halloween and Day of the Dead.
In addition, the above the line campaign will run alongside social media posts in partnership with Twisted, the home of unserious food. Recipe posts and videos will also run across Facebook and Instagram.
Claire Cooper, McCoy's marketing manager at KP Snacks, commented: "McCoy's Muchos has experienced phenomenal growth since we launched the product in January and is already worth £9.4m RSV.
"This second wave of advertising activity will drive further appetite for Muchos, with our partnership with Twisted attracting new consumers as well as keeping it front of mind with existing consumers to drive repeat purchase."
Available to independents, McCoy's Muchos come in three Mexican flavours; Cool Sour Cream & Onion, Tangy Nacho Cheese and Smoky Chilli Chicken.
All three flavours are available in eight x 180g plain packs, with Tangy Nacho Cheese and Smoky Chilli Chicken also sold in 14 x 80g £1 PMPs.