Following demand for its 2018 limited-edition Christmas line, Kettle has launched its festive flavour for the winter holidays: Truffled cheese & a splash of English sparkling wine.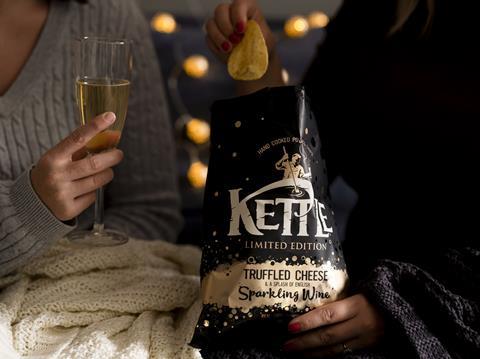 Available to convenience stores now to stock for a limited time this winter, the Christmas launch combines truffled cheese seasoning with notes of sparkling wine in a 135g sharing bag (rrp £1.99).
Phil Hovey, innovation chef at Kettle, commented: "Following the love we received for Truffled cheese & Champagne last year, I decided that if it ain't broke, let's make it even better this winter."
The Truffled cheese & a splash of English sparkling wine product is made using wine sourced from the Winbirri Vineyard in Norfolk. Most of the potatoes used in the Kettle range are grown within 30 miles of this facility using the company's state-of-the-art cook rooms.
Lee Dyer, head winemaker at Winbirri Vineyard, added: "We're delighted to have partnered with Kettle to develop this wonderfully festive chip. We're very proud of the wine we create here at Winbirri Vineyard and it's incredibly exciting to have worked with another local company that shares our passion for getting the best out of local produce.
"We hope everyone enjoys time with friends and family this festive period, sharing this delicious limited-edition Kettle chip, and maybe even a glass of Winbirri."