Unilever has announced a first-time collaboration with Ferrero to bring Kinder and Kinder Bueno ice cream to the UK.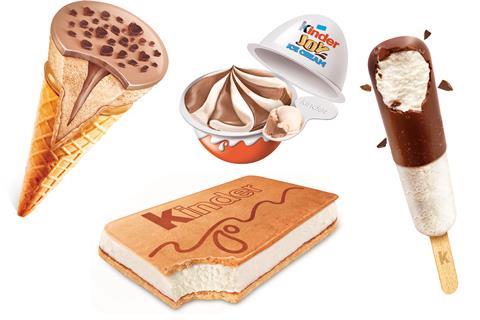 Following a successful launch in Europe last year, the two brands are together rolling our four new products: Kinder Bueno ice cream cone; Kinder ice cream stick; Kinder ice cream sandwich; and Kinder Joy ice cream.
All variants contain 100 calories or less and are made with fresh milk. Each one also comes in small portion sizes, with packs featuring Unilever's 'Responsibly Made For Kids' logo.
Noel Clarke, vice president for refreshment at Unilever UK, said: "This is an extremely exciting time for ice cream, with the category growing by almost 20% year-on-year [Kantar Total Market MAT to 2 December 2018]. Now that the countdown to summer is officially on, we can't wait to launch Kinder and Kinder Bueno ice creams to satisfy shoppers that are always on the hunt for new and exciting products to try.
"Kids' ice cream has been a missed opportunity up until now, with little in the way of ground-breaking innovation – even though the segment is growing ahead of the total category [Kantar Total Market MAT to 2 Dec 2018]. Well, we're about to change that by bringing kids not one, but three Kinder ice creams to fall in love with."
Price List
| | | |
| --- | --- | --- |
| Product | Format | rrp |
| Kinder Bueno Ice Cream Cone, 90 ml | Single | £1.40 |
| Kinder Bueno Ice Cream Cone, 90 ml | Multipack x 4 | £3.50 |
| Kinder Ice Cream Sandwich, 60ml | Multipack x 6 | £3.50 |
| Kinder Ice Cream Stick, 36ml | Single | £0.80 |
| Kinder Ice Cream Stick, 36ml | Multipack x 10 | £3.50 |
| Kinder Joy Ice Cream, 60ml | Single | £2.50 |