Pierre Marcolini is launching a series of frozen chocolates and ice cream products, designed for consumers to enjoy during the summer months.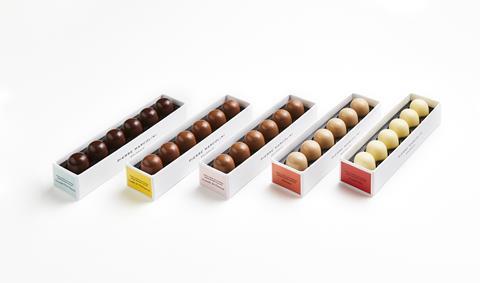 The first new line-up is the brand's frozen pralines - a range of chocolate bonbons bringing cocoa and ice cream together in one bite-sized treat.
Available in five variants: dark chocolate; Madagascar vanilla; Piedmont hazelnut; raspberry; and mango, the pralines come in boxes of six, 10 and 25 (rrp £5.90, £9.90 and £19.50 respectively).
Pierre Marcolini is also expanding its desserts offer with six new no added sugar variants for its Frissons ice cream collection.
The range includes the following: dark chocolate ice cream with chocolate sauce and a pecan topping; Madagascar vanilla ice cream and raspberry coulis with crushed almonds; Piedmont hazelnut ice cream with hazelnut sauce and crushed hazelnuts; strawberry sorbet and passionfruit-apricot coulis with toasted sesame seeds; mango sorbet and red fruit coulis with crushed almonds; and raspberry sorbet and red fruit coulis with crushed almonds (rrp £4.90 / 90g cup).
Finally, Pierre Marcolini is relaunching its Ego Twist range - a collection of ice cream lollies dipped and coated with a choice of toppings - in a larger 50ml format (rrp £5).
Made with no added sugar, the range comes in six ice cream or sorbet flavours: Madagascar vanilla; dark chocolate; coconut; yuzu (new sorbet for summer 2019); mango; and raspberry.
The lollies can also be coated in the following six toppings: signature dark chocolate; smoked dark chocolate; milk chocolate with hazelnut; milk chocolate with caramel; white chocolate with coconut (new flavour for summer 2019); and white chocolate with Iranian pistachios (new flavour - summer 2019).