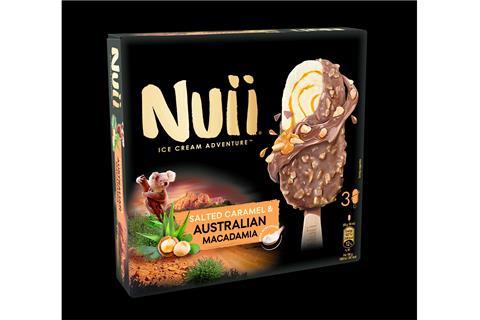 Froneri is set to launch a new frozen brand in the indulgent sticks segment, with the roll-out of Nuii Ice Cream Adventure.
The Nuii range consists of four new skus: salted caramel & Australian macadamia: dark chocolate & Nordic berry; cookies & Idaho Valley mint; and almond & Java vanilla.
All the variants are designed to offer a new taste experience using global ingredients and flavour combinations (rrp £2 per 90ml single / rrp £3.80 per 3-pack).
Indulgent sticks are the largest sector of the ice cream market and Froneri is hoping to add value to the category with its new premium brand.
Charlotte Hambling, UK head of marketing at Froneri, said: "The indulgent sticks sector continues to drive growth in both ice cream and the wider grocery market. However, there's a real gap to add incremental growth by appealing to the adventure seeking, taste discerning audience who are looking for a premium stick that fulfills their indulgent treat requirements for an evening snack".
"Nuii takes premium indulgence to the next level. The quality of the ingredients we have sourced, and the artisanal finish conveys the care and attention that goes in to every one of the Nuii sticks".
To support the launch of the Nuii brand, Froneri is investing £3m in an integrated marketing and shopper campaign to run throughout 2019. A new TV advert will air in April, supported by outdoor, print, experiential, social and digital activity.