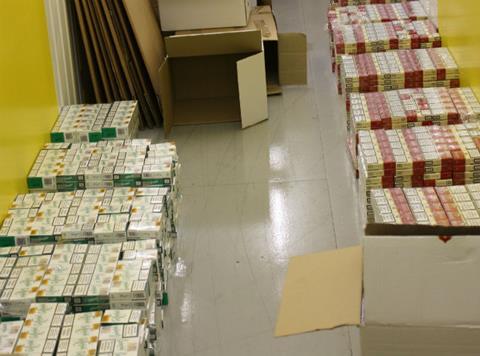 After reading that a new report by KPMG found that illicit cigarettes cost the UK government £2bn in lost revenue, an anonymous retailer got in touch.
They wrote: "I have a shop a few doors away from mine that has been selling fake and illicit tobacco for over three years. They have been raided by police, customs and excise, immigration, and trading standards several times, yet still remain open and as soon as authorities go they go to a car to get new stock.
"I was in regular contact with a trading standard officer for several months giving him information on cars that were being used to store stock. He said he could do nothing even said he was too scared to visit as he was threatened. So how do we get this shop closed? Police are under too much pressure. What are these cigarettes funding? Any suggestions?"
Usually it's organised crime behind it. There are three main types of fraudulent tobacco: contraband, counterfeit and illicit whites. The first is smuggled from abroad without domestic duty paid. The second are cigarettes manufactured without authorisation of the rightful owners, with intent to deceive consumers and to avoid paying duty and the third are brands manufactured legitimately in one country, but smuggled and sold in another without duties being paid. Illicit whites can be dangerous above and beyond the obvious because they do not adhere to safety standards and may contain foreign particles. They come, to a very large extent, from Belarus.
Retailers aware of anybody selling illicit tobacco can report them via:
HM Revenue & Customs' Fraud Hotline 0800 788 887.

Trading Standards via the Citizens Advice consumer helpline 0808 223 1133

Independent charity Crimestoppers, where they can report it anonymously, on 0800 555111.