Frosty Jack's Cider is embarking on a complete refresh in an attempt to build appeal with existing consumers and recruit new drinkers to the brand.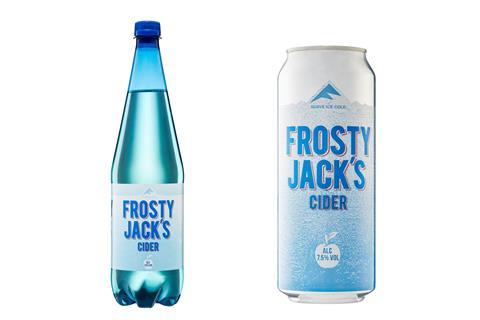 The overhaul includes the introduction of a new-look contemporary design and the replacement of all of the brand's 3ltr PET bottles with 2.5ltr equivalents (abv 7.5%), which is estimated to see 22 million fewer units of alcohol consumed.
Gordon Johncox, chief executive at brand owner Aston Manor Cider, said: "This contemporary design for Frosty Jack's is an important step for the brand. We have introduced significant changes this year - from the reduction in bottle size to the recycled content in the packaging - to ensure it is leading the industry on sustainability issues.
"We are delighted with how the new look embodies our forward-thinking nature. This also supports our objective for Frosty Jack's to be less reliant on larger packaging formats. Consumer preference has been shifting to smaller packs recently, which is demonstrated as Frosty Jack's in cans are in double digit growth, and we expect this investment to accelerate that progress.