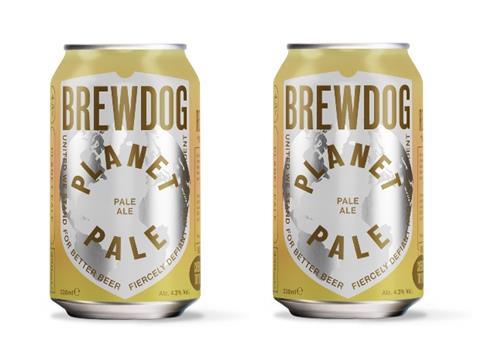 BrewDog has introduced new BrewDog Planet Pale (4.3% ABV).
Available now across grocery and convenience, the new sustainable beer will join the core range and follows the re-launch of Lost Lager earlier this year.
The new drink will come in the following formats: four-pack 330ml, RRP: £5.00; Single 440ml cans, RRP: £2.25.
The new product replaces BrewDog Pale Ale, with a new recipe and stronger brand proposition, to generate excitement and highlight the brewer's sustainability credentials.
Head of customer marketing at BrewDog Alex Dullard said: "We want to make great beer th at people love, whilst also being great for the planet. Following the re-launch of Lost Lager in the Spring, we established that 70% of beer drinkers are more likely to purchase a beer made in a sustainable way presenting a huge opportunity to grow frequency and penetration with a planet-friendly beer offering, that can be enjoyed responsibly.
"With its sub-5% ABV, new BrewDog Planet Pale, offers a solution for retailers that balances session-ability with flavour, providing the sweet spot for this style of beer. The redeveloped recipe packs a significant hoppy punch with a balanced malt base, while the name combines our missions for a greener future with our love of great beer. It is a simple nod to our carbon-negative credentials, coupled with the style….and does what it says on the can."
The launch will be supported by a full marketing roll-out, including digital, social media and in-store POS, featuring the strapline, 'Enjoyed Responsibly Worldwide.'