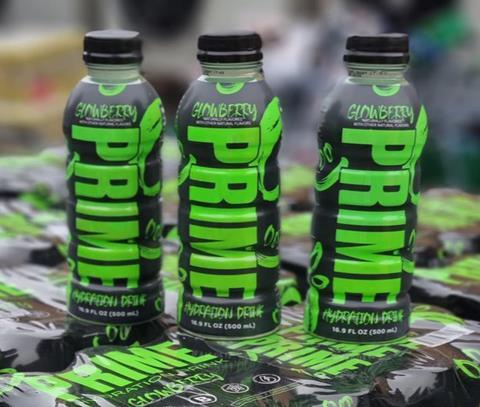 Ever since online influencers Logan Paul and KSI launched Prime Glowberry in the US at the end of August, UK fans have been chomping at the bit to get their hands on the latest incarnation of the viral hydration drink. The sour apple and berry flavoured drink comes in glow-in-the-dark bottles and is available in standard, rare and ultra rare label designs.
Aldi announced last week that it would be the first supermarket to sell the drink with an RRP of £1.99, but stock that was due to come in yesterday (Thursday 5 October) never materialised.
Morrisons is set to be stocking it too, according to Prime Tracker, though there have been no official announcements so far.
But while the big boys have left people hanging, independents have leapt into action to ensure that their customers' needs are met.
Yorkshire retailer Bob Singh has sold over 1,000 bottles of the drink since getting it in stock a couple of weeks ago. "Whatever comes out in America, it's quite attractive and obviously with Prime it's had a lot of media attention in the last year, so it's going to be a win-win situation," says Bob, who owns Nisa Barmston and also operates Washington Vapes Wholesale.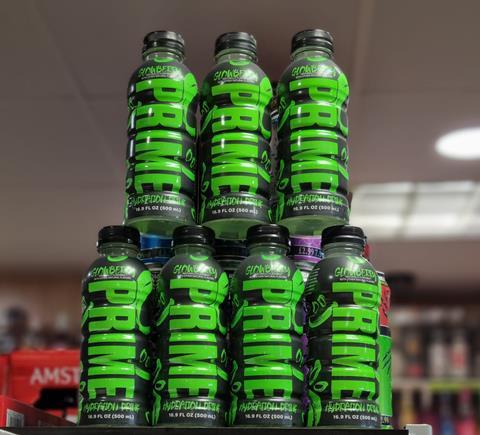 "It has been our most popular Prime, 100%," he says. "The bottle glows in the dark, hence the name Glowberry and the taste is quite fascinating."
The store is selling the drink at £6 a bottle, which might seem steep compared to Aldi, but Bob claims that plenty of people are happy to pay more to get an imported product before it becomes more widely available. Nevertheless, he is careful to give customers a fair price.
"Some shops are selling it for £8, £10, £12, so I just thought I want to be the lowest," he says. "People know we are the place to go if something new comes out. They know you can't get that in the [standard] shops so they know they've got to pay a premium for it.
"If there's demand for a product you have to have it, simple as that. And if you're going to have it, have it the cheapest. That's our model and that's how we deliver."
He isn't concerned about Aldi treading on his toes. "Aldi will run out of stock quickly," he says. "Give it another week and demand will fizzle out altogether.
"It's very important to stock up early. You have to be on top all the time."
Manz Ahmed, a director at Rasul Bros, which owns five stores across East Lothian, Dumfries and Mid Lothian, has been selling the drink since mid-September and is equally unperturbed by Aldi getting in on the action. "Our contact at Aldi has told us it's going to go within minutes because they don't have a massive supply and not all Aldi stores are going to get it, so it looks like what will end up happening is it's just coming in waves," he says. "They [Prime] want to sustain that elusive image, and it will work, but a lot of people will feel disappointed when they can't get it from Aldi."
Thanks to his regular Our Wee Shop social media posts, Manz has welcomed Prime customers from far and wide. "We get customers from as far away as Glasgow and Newcastle coming to our shop just to buy Glowberry Prime!" he says. "When it launched, that was the biggest buzz."
Even though sales have slowed now, it remains the store's number one seller. "With Glowberry we went for half a pallet and with the way the stats are going it looks like by the end of November we will be sold out."
He has also kept his pricing comparatively keen. "We're selling it for £6.49 a bottle," he says. "We buy it for £6, so we're only making 49 pence margin. We're not out there to rip people off. When you have retailers selling bottles for £10 plus it doesn't do the industry any good."
He claims that his core Prime customers are parents. "The main people who are buying these new Primes are the parents of children who are collecting them," he says. "They're seen as a memorabilia collection. I think KSI and Logan Paul know the concept of memorabilia and that that's what's going to sustain the brand is new flavours."
He is very mindful of keeping prices within a reasonable range. "A Dodgers Prime has been released too. We can get access to it, but the prices are far too high and we would have to effectively double our price for it and that's not what we're going to do," he says. "We listen to the parents a lot and we keep close tabs on public opinion."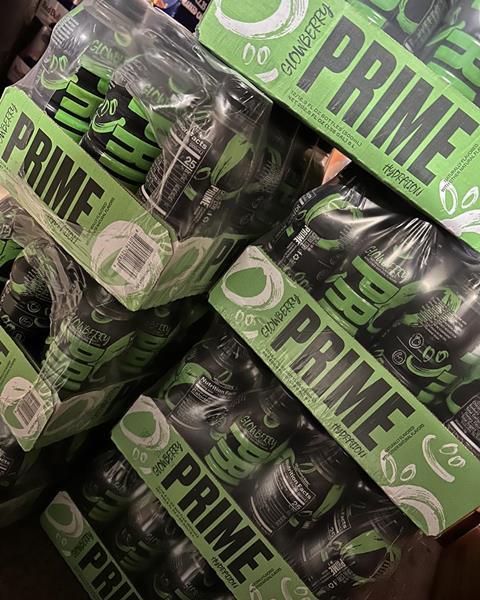 Over in Edinburgh, Day Today Drylaw Local, has just five Prime Glowberry cases left out of the 50 it ordered. The store started stocking the drink a fortnight ago as a service to customers. "We found out about it online and a lot of customers were asking about it as well," says manager Umar Farooq. "We've priced it at £5. We're not making any profit on it. We're more of a community store, we are just breaking even."
However, he believes the product is generating incremental sales. "Even though we aren't making any money from it, we're still getting customers in to buy it and then they're buying other stuff as well," he explains.
Spar retailers may soon be joining the Glowberry Prime party too as the drink has been listed on wholesaler AF Blakemore's system with an RRP of £2.49.