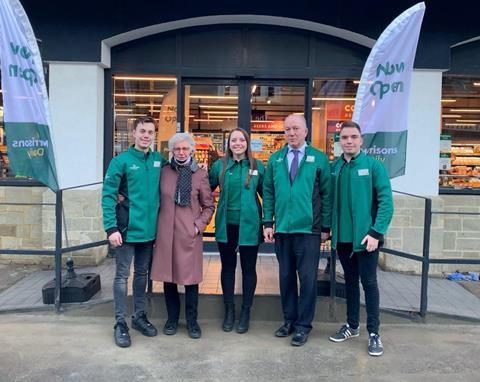 Family-owned forecourt operator Elite Garages has broken with tradition, and opened its first non-fuel site in Shaftesbury, Dorset. As well as branching out to traditional convenience, it has also partnered with Morrisons to open the largest Morrisons Daily store in the UK.
Kelsie Whittemore explains to ConvenienceStore.co.uk why Elite Garages is moving in this direction. "We see the future with electric vehicles and we're keen to venture into other areas.
"We have nine petrol stations with small convenience stores attached to them and this is our first large convenience store that doesn't have any petrol."
It [the fuel sector] hasn't massively changed yet but we want to be ready for it. All 15 of our MOT centres have been EV-trained. They'll still need MOTs and servicing, so hopefully we'll stay ahead of the game."
While Elite Garages is future-proofing its business, there are no plans to get rid of the existing forecourts or switch them to Morrisons Daily. "We're keeping our forecourts and will be extending them in the future so they're more of an offering for drivers," says Kelsie. "We're with Spar for our forecourts and we'll be sticking with them for those as we're happy with the partnership. However, we're keen to keep expanding in the future. Hopefully if this one goes well, we'll be able to open some more up."
Elite Garages picked the site as it was considered an anchor store in Shaftesbury but has been vacant since 2017. "Previously it was a 9,000sq ft supermarket but it's been empty since 2017 due to competition in the area. We felt that end of the town still needed a supermarket but not of that size so half of the space will be Morrisons Daily and the other half will be used by our MOT business.
"As you drive into Shaftesbury, all the coaches drop visitors there so it's the first thing people see and when it was empty that didn't give a great impression of the area."
Kelsie says the team had to get used to managing new categories that weren't as strong in their forecourt estate. "One of the biggest differences between running a forecourt site and a non-fuel site is the fresh offering, we're not used to having as much meat, fruit and vegetable and chilled as before so we're still getting used to that. We have one delivery of fresh a day which is more than what we're used to.
"Footfall is also huge, we've got all types of customers coming in - from people looking for a meal deal to people doing their weekly shop which is different for our typical basket spend. We do have quite a lot of elderly customers from nearby but also get young professionals who are moving into the town."
She says Morrisons Daily was the right fit for the area and to support them in this new venture. "We think they have a great range, suitable for all budgets, especially in own label. The team has been very supportive and their expertise has been amazing."
Kelsie says that the agreement allows for them to stock more local products.
"We have Morrisons products but also local ones. Morrisons has given us dedicated space in the store for products local to the area, that is something that if it goes well, we'll roll that out to our forecourt sites. It's drawing a lot of people in, especially tourists, and it could work in the forecourts."