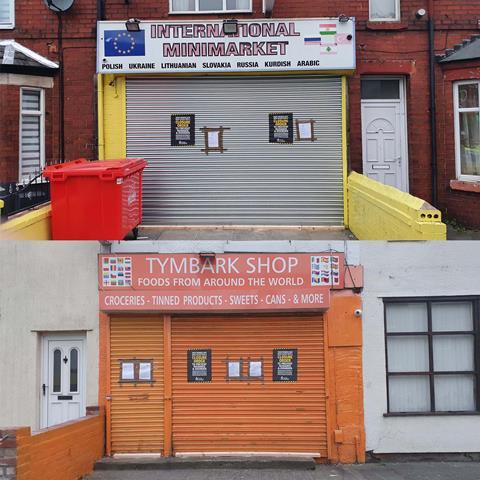 Closure orders have been imposed on two stores in Warrington following a raid by Cheshire Constabulary.
The local police force executed warrants at the International Mini Market and Tymbark shops and the flats above them earlier this month, acting on reports of anti-social behaviour linked to the premises.
Over the course of the raids, approximately 50,000 packets of counterfeit cigarettes and around 3kg of counterfeit tobacco were seized as well as a quantity of cash.
Officers imposed 48-hour closure notices on the stores and one of the flats, and subsequently applied for three-month closure orders to be enforced on the three addresses, which was granted by Chester Crown Court under the Anti-Social Behaviour, Crime and Policing Act 2014.
Four men were spoken to at the addresses when the raids were carried out and their details have been passed on to HM Revenue and Customs, who are investigating the counterfeit tobacco products that were found in the properties.
Sergeant Alex Reeves, who applied for the closure orders on behalf of the Warrington Problem Solving Team, said: "The closure orders that have been secured and the large quantity of counterfeit tobacco products that have been seized are the results of a multi-agency operation.
"Acting on intelligence supplied by members of the community, we launched an investigation and requested the assistance of HM Revenue and Customs, Warrington Borough Council's trading standards department and the UK Visas and Immigration service.
"The premises were sources of significant anti-social behaviour and environmental issues in the area.
"There were parking problems caused by the amount of people going to the shops where the counterfeit tobacco products were being sold, as well as issues stemming from children trying to get adults to buy the products for them."
Reeves added that the force will continue to monitor the premises. "We will conduct regular checks of the premises whilst the orders are in place to ensure that they are not breached.
"If anyone is found to have breached a closure order they are liable to be arrested and face up to six months in prison, an unlimited fine or both.
"I am also pleased that a large quantity of counterfeit tobacco products are no longer destined for members of our community. Not only does the sale of counterfeit tobacco products harm legitimate businesses, and society in general due to no tax being paid for them, it is also dangerous.
"Those who buy such products don't know what is in them and what the money they have paid will be used for.Counterfeit cigarettes also present a greater risk of causing a fire than legitimate cigarettes that conform to reduced ignition propensity (RIP) regulations."
Speaking to ConvenienceStore.co.uk about the seizure, JTI's Fiscal & Regulatory Affairs Manager Ian Howell praised the authorities for their actions.
"It's reassuring to see Warrington Local Policing Unit taking meaningful action and active steps to crack down on the illicit trade," he said. "Illegal tobacco is not a victimless crime and it damages the sales of legitimate retailers, facilitates the supply of tobacco to underage people, and supports organised criminal networks.
"Despite the lockdowns and ongoing travel restrictions, the illegal trade remains a serious problem across the UK. Research by JTI last year (Kantar) found that 34% of smokers in the North West had bought cigarettes or hand rolling tobacco that was not in the plain packaging required by UK legislation i.e. it was illegal."
Howell stressed the role retailers play in tackling illicit tobacco and how there is support available for them. "Retailers play a hugely important role in educating consumers and we're committed to supporting them communicate the dangers of the illicit tobacco trade to their customers and steering them away from directly or indirectly supporting organised criminal enterprises.
"We know that many retailers feel reports fall on 'deaf ears' and that "nothing ever seems to happen". However, as this investigation shows, enforcement action like this is taking place, and the criminals depriving honest retailers from legitimate sales are being brought to justice. Ultimately, by encouraging more people to report suspicious activity to the relevant authorities, retailers can help protect their local communities and drive sales in their store.
"Providing Trading Standards and HMRC with information on where illegal tobacco sales take place is absolutely vital. If retailers know, or suspect, illegal tobacco is being sold in their area, they should call HMRC's Fraud Hotline on 0800 788 887, Trading Standards on 0808 223 1133 or Crimestoppers, anonymously, on 0800 555 111. Retailers can also visit www.jtiadvance/DontBeComplict, and use the Don't Be Complicit In Illicit's microsite's quick and easy 'report' function."