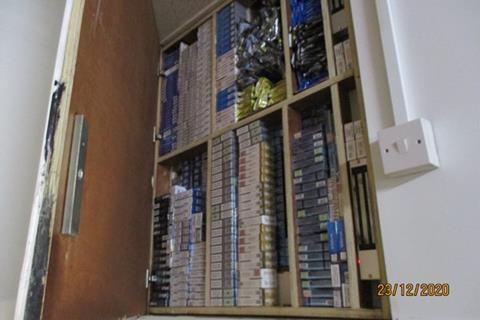 Two stores in West Yorkshire have had their alcohol licences taken away to send a message against the trading of illicit tobacco.
Polski Sklep in Dewsbury and 7 Days Mini Market in Halifax have both had their alcohol licences revoked by the Calderdale Council Licensing Sub Committee and Kirklees Council Licensing Sub Committee respectively following the discovery of large quantities of illicit tobacco at both stores.
The review applications were submitted by West Yorkshire Police in conjunction with West Yorkshire Trading Standards following investigations at both stores.
Trading Standards Officers carried out test purchases at both stores, and where illegal tobacco was sold, this was followed up with inspection visits. Large quantities of illicit tobacco were seized from both stores. Tobacco was hidden in a wall cavity inside 7 days Mini Market and a chute was being used to drop the tobacco down into the store from the room above it at Polski Sklep.
West Yorkshire Trading Standards Manager Linda Davis said: "I fully support the action taken by the sub committees against these stores. This sends out the strong message to traders that if illegal tobacco is found on premises on just one occasion, the business is at serious risk of losing its licence to sell alcohol. Far from being a victimless crime, illegal tobacco trading creates a cheap source for children and young people and encourages adults to continue smoking by eroding cost motivation to quit. It is also linked to organised crime, human trafficking and money laundering and contributes to an underground economy worth hundreds of millions of pounds."
The investigations formed part of the Tackling Illicit Tobacco for Better Health Programme, funded by the five Public Health departments, which has been created to help people to stop tobacco use for good by educating the public and by investigating traders who supply cheap and illicit tobacco. The initiative uses multi-agency enforcement and community marketing campaigns to tackle the problems of the illicit trade.
To date the programme has taken nearly seven million illicit cigarettes and 2.5 tonnes of illicit hand rolling tobacco off the streets of West Yorkshire. It also warned that with more inspections planned in the coming weeks, these figures are set to increase.