New Track and Trace legislation designed to curb the illicit trade will mean dramatic change for retailers. Our guide details what you must do to ensure you can buy tobacco legally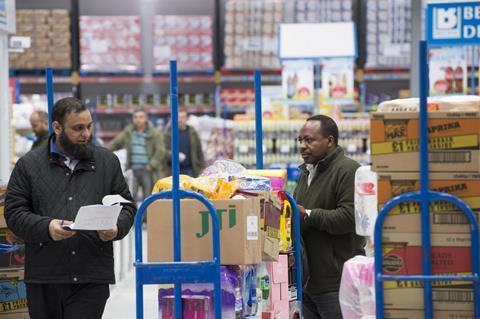 The UK's problem with illicit tobacco certainly isn't lost on the convenience store industry. Most store owners are well aware of its pernicious influence on local communities, and many have first-hand experience of the impact it has on footfall, sales and profitability.
One month from now, in a bid to curb the crime, new Track and Trace regulations will be implemented in the UK as part of the EU Revised Tobacco Products Directive.
Coming into force on 20 May, the legislation will allow the authorities to track individual tobacco products right across the supply chain, immediately identify illicit product, and stop businesses which have been repeatedly caught selling illicit tobacco from buying or selling any legal tobacco products.
However, while undoubtedly well-intentioned, the Track and Trace regulations also require legitimate convenience retailers to take critical action.
In the next few weeks all UK retailers who sell tobacco will need to apply for two unique codes: an Economic Operator Identifier Code (EOIC) registered to their business; and a Facility Identifier Code (FIC) for each of their stores that sells, or stores, tobacco.
Wholesalers and large national retailers will be able to start applying for their codes from 23 April, with the application process opening up to the rest of the retailing industry from 30 April.
Just three weeks later, from 20 May 2019, packs of cigarettes and handrolling tobacco entering the UK supply chain will include new scannable security features, and all retailers will need to know their two codes in order to buy this tobacco legally.
As C-Store went to press, the HMRC website had yet to be updated with the details of exactly how to apply for the codes, meaning an incredibly tight timescale before the legislation is implemented. This has been strongly criticised by representatives from across the supply chain, and industry fears have been exacerbated by what has been felt by many to be an insubstantial drip-feeding of information from the authorities.
Association of Convenience Stores (ACS) chief executive James Lowman's thoughts are representative of most: "We have been frustrated with the lack of information and frequent delays to the process. Three weeks is not a long time for thousands of small shops to comply with the regulations, especially if there are any problems with the system," he says.
The lack of clarity has contributed to a real sense of confusion and in many cases panic, among the convenience sector, with retailer interviews by Convenience Store revealing a wide range of misconceptions about how, and when, the legislation will be implemented, and some store owners not even aware of it in the first place.
Inaccurate beliefs range from retailers thinking that they would have to apply for codes from every wholesaler that they buy tobacco through, to thinking that the rules would not apply to symbol group retailers, and that these retailers would not need to do anything at all, because their wholesalers would automatically apply for codes on their behalf. None of the above are true.
So, just to clear up some of the confusion, here are the facts on Track and Trace:
The Track and Trace regulations will enable the authorities to track and trace tobacco products right through the legal supply chain, from the point at which they are manufactured to when they are bought by an individual retailer
The legislation will be implemented on 20 May 2019, regardless of when the UK may exit the European Union
From the end of this month, all retailers who sell tobacco will need to start applying for two unique codes (an Economic Operator Identifier Code registered to their business; and a Facility Identifier Code for each of their stores that sells or stores tobacco)
Retailers are encouraged to apply for the codes themselves, to avoid errors. Third parties, including wholesalers, can apply for codes on behalf of independent retailers who request it. However, it is up to each wholesaler to determine whether they will offer this service to their customers, and it is still the retailer's responsibility to ensure that they have their identifier codes
Codes will be free of charge
From 20 May 2019, all UK retailers wishing to buy Track and Trace compliant tobacco legally will need to have and know these two codes in order to do so, regardless of their symbol group, retail club or franchise status
As part of the system, all packs of cigarettes and rolling tobacco produced after 20 May 2019 will also include five new security features
In addition to these features, some of which will be visible and some covert, packs will also be printed with a Unique Identifier Code (UIC), unique to every pack
The UIC will include details on the date and place of manufacture, a product description, intended market of retail sale, and intended shipment route
From 20 May 2019 wholesalers will need to scan these new tobacco products out to retailers
Retailers will not have to scan tobacco products out to their customers
Retailers will have one year, until 20 May 2020, to sell through old tobacco packs that do not include the new Track and Trace security features and UIC
Retailers with multiple sites will be free to move tobacco products between their stores
Retailers who purchase tobacco from their supplier and store it at a different address to their shops, such as a storage facility, will be required to have scanning equipment and track the movements of those products
The tobacco industry is responsible for providing the equipment and has appointed a third-party provider, SGS, to act as the single point of contact.
As the industry waits with baited breath for the application process for codes to finally go live, let's just hope that the software, procedures and systems behind it are up to the mammoth task.
Correctly distributing such a vast number of unique and vital codes to the many businesses across the country in such a short space of time will certainly be no mean feat.
What action do you need to take?
As part of a phased application process, wholesalers and large national retailers will be able to apply for their codes from 23 April
On the 30 April the application process for Economic Operator Identifier Codes and Facility Identifier Codes will open up to the wider retailing industry
To obtain the codes, retailers must apply only ONCE via the HMRC website www.gov.uk/guidance/selling-and-storing-tobacco-products
Codes will be issued by the government's officially-appointed ID issuer, De La Rue
Wholesalers can also apply for codes on behalf of retailers who request it, but they are not obliged to do so. The Federation of Wholesale Distributors recommends that retailers apply for the codes themselves.
The penalties
If retailers have identifier codes but breach their regulations, they could lose their ability to purchase tobacco.
The government is currently proposing that a retailer could lose their codes, and therefore their ability to buy tobacco legally, in the following circumstances:
If they have been caught selling illicit tobacco on three or more occasions within any 12-month period
If they have failed to rectify their non-compliance after being issued with a compliance notice (for example, if a retailer has not applied for a code)
If they have a conviction for selling illicit goods under customs and excise Acts
If they have received a penalty exceeding £10,000 for selling illicit goods within the past 12 months
If they have not used their identifier code in the past 12 months
If they have deliberately provided false information in an application to the UK ID Issuer for an identifier code