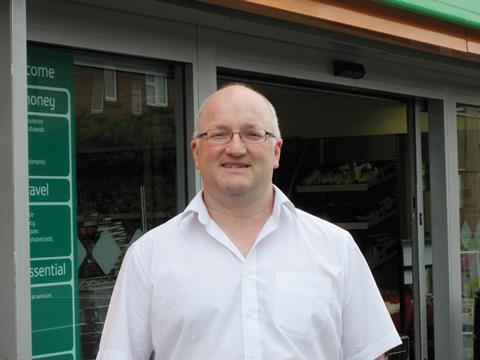 Top convenience retailer Steve Bassett is set to open a Sainsbury's supplied Simply Fresh store.
From next month, his Bitterne Park store in Southampton will operate under the Simply Fresh fascia and will be supplied by Sainsbury's as part of the tie-up between the two retailers.
Bassett operates five stores in the South West of the UK under the Londis brand.
Simply Fresh and Sainsbury's expanded the roll-out of their strategic wholesale partnership following a successful trial last year at a store in London which saw strong success during lockdown.
Simply Fresh COO Michael O'Loughlin previously detailed exclusively to ConvenienceStore.co.uk the extent of the partnership with Sainsbury's and how discussions with new retailers to join the proposition were advancing and that many more were interested in the offer.
"A big draw for me was being able to deliver Sainsbury's products within an hour which is something they can't manage!"
Speaking to ConvenienceStore.co.uk, Steve said he had been considering this style of operation for several years. "I saw a talk by French retailer Carrefour and I realised that a lot of French sites are franchise operations and that appealed to me.
"I spoke to Simply Fresh 18 months ago before I knew Sainsbury's was part of the deal and was interested as I always liked the Simply Fresh brand but the Sainsbury's tie-in was what sold it for me."
Steve explained that Sainsbury's branding was a key driver in his decision. "People love brands, particularly ones with as much widespread recognition as Sainsbury's. There's a level of trust there.
"With this deal, I get to choose my own range and pricing, and have the Sainsbury's brand for customers."
He also said that stronger competition in the market also prompted the decision. "The major multiples are in our space now through different ways so that extra support is needed."
While he has no immediate plans to switch his four other stores to Simply Fresh, he said he'll be keeping it under consideration. He also doesn't expect the store processes to change much. "Everything Simply Fresh is expecting from us is something we do anyway in terms of standards so it isn't a huge jump for us."
While he has paused deliveries from the Bitterne Park store while the changeover happens, Steve expects to ramp them up again soon. "A big draw for me was being able to deliver Sainsbury's products within an hour which is something they can't manage!"
Brand and creative director for Simply Fresh Davinder Jheeta said: "We are incredibly excited about the launch of our newest Simply Fresh store with Steve. The Bitterne Park store has been designed for those who want to enjoy a sense of community and at SimplyFresh we see good food as being an integral part of that. We celebrate great products and are hugely passionate about fresh food and drink; we look forward to supplying the customers around the store and the local area with some fantastic specialist healthy products, as well as an excellent range of products from Sainsbury's, catering for all customers."