Nisa is set to pass the 500-store recruitment mark for this year despite the challenges created by the coronavirus pandemic.
Speaking at the Nisa Expo, which is taking place online this week, Nisa's senior team outlined to ConvenienceStore.co.uk the growth the group has seen over the past year.
Nisa sales director Steve Leach broke down the reasons why the group has had this level of recruitment. "Last year we recruited just under 550 so to be at 500 at this stage is positive. We're a safe harbour in stormy seas. If you're unaffiliated and you are going to a cash and carry, you won't get the same level of support. Availability for the industry was a challenge for the industry and us returning to our award-winning levels is turning a lot of heads.
The good news is that recruitment is coming in at lots of different levels. We have a lot of single site recruitment but equally our key accounts have seen success over the year."
He cites the Ascona Group partnership as an example. "That's the beginning of a strategic partnership. They came in with 35 sites and that's already been expanded to 42."
New Express format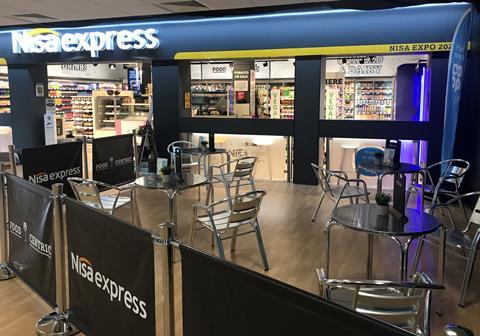 The group also unveiled its new Nisa Express model. Designed for stores up to 1,000sq ft, there are three options available – food centric, forecourt and essentials. The food centric option is the focus of the store being exhibited via a virtual tour facility at Nisa Expo and offers a premium provision based around the on-the-go and meal for tonight customer.
Head of format at Nisa Darren May, said: "Our new Nisa Express format is designed to meet the needs of Nisa partners who operate smaller stores but who want to ensure their business is contemporary, has the right look and feel and provides their customers with the best shopping environment.
"Importantly, we want to ensure all partners have access to a Nisa fascia and format that complements their individual offering and location and we believe this is achievable with the Nisa Express format."
Chief operating officer at Nisa John McNeill explained the new format. "There are a couple of reasons for the development of this proposition. Behaviour in the market is showing the requirement for those wanting something but expecting more than a limited range in a store regardless of size.
"The nature of people being time-poor, plus the pandemic has meant more people are spending more time locally. It was also a gap in our proposition. We have some fantastic store offerings but squeezing them into a 500sq ft space is very challenging to do."
The first Nisa Express has been installed at an Ascona forecourt site in Clophill, Bedfordshire.
The launch of the new Nisa Express format also signals a key development in the business's offering, with that fascia option geared toward smaller convenience and forecourt sites, both of which play a big part in Nisa's growth strategy.
Price war
With a recession in effect and the multiples looking to keep their share of sales, there are concerns that the sector could get caught up in a price war. However, Towle feels that it will be more complicated than that. "I think it's going to be a war of proposition rather than price. If you look at the discounters 15-20 years ago, the range was smaller and the stores were very utilitarian, fast forward to today it's a different proposition because they've responded to their customers. It's the same for us. You can't play this game with one club, you've got to have the range, the availability, fairly priced and have the right promotions, especially in a recessionary environment. The other thing we see stand out in our research is service, which is where we have an edge. Many of these stores have decades of experience in serving their communities."
With shopper missions changing, fresh and chilled has become a higher priority but can it sustain? Towle is clear-cut on this. "Yes, the opportunity is to keep going. We encourage our partners to stick with it. Your customers have to discover it and gain confidence in it. They need to know that if they're planning a meal and want to buy chicken fillets, that they can buy chicken fillets at your store. They can't plan a meal around intermittent availability. You've got to be in it to win it."