Retailers, suppliers and symbol group executives came together this month for the Convenience Store Conference 2016. The event provided a chance to look in-depth at the opportunities offered by meal 
occasions, with speakers including c-store retailers blazing a trail in meal solutions, and representatives from HIM revealing exclusive data
A world of growth
Tom Fender, director of HIM International, told retailers they had room for 'tonnes of growth' compared with c-stores in other countries.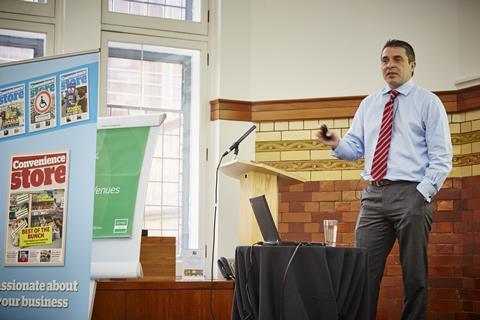 Fender said 28% of the world's population regularly leaves home without eating breakfast, 28% will also have lunch on the go regularly, and 56% typically don't know what they are having for dinner on the day itself.
Retailers don't have to feel nervous about trusting the stats either, as c-store owners around the world are proving how popular their outlets can be with the right offering. When shoppers in Taiwan were asked where they buy food to go from, 71% said convenience stores. When shoppers in the UK were asked, just 32% said convenience stores.
Consumers globally have said one of the main reasons they do not choose to visit c-stores is because their products are too similar to those found in supermarkets and the products don't change often enough. Fender has travelled the world, discovering what retailers are doing in other countries in order to define the most important elements shoppers need from a food-to-go offer.
Fresh and healthy
C-stores around the world have blazed the trail and are selling all kinds of freshly prepared food, claimed Fender. "Stores in Japan offer platters of sushi," he said. "This high-quality, fresh, quick food can be taken back to the office to share with colleagues." Fender added that platters could be a good sales opportunity for any c-store near offices.
Meanwhile, he observed that in Hong Kong c-stores stock fresh, premium fruit as well as a wide array of smoothies. "Healthy food is a huge trend in 2016 and cannot be ignored," said Fender. "Healthy options have to be offered for meal solutions. Many new 'healthy' products are coming on to the market and retailers must consider stocking these, even if only for a trial period."
He claimed that a healthy food offering went beyond fresh products. "People are far more aware of what is good and bad for them. People tend to want food which provides what their body needs, so protein bars and shakes are not only for body builders and gym bunnies."
Fender added that research has shown that customers want a choice of branded and own-brand products and urged retailers not to be afraid to put the two next to each other to provide choice.
Personalisation
Made-to-order items were highlighted as another key area for retailers to consider. "People want to make food their own. They often like to help themselves to get exactly what they desire," said Fender. "They are becoming fussier and more aware of intolerances and health issues. They expect their personal needs to be fulfilled."
In Dublin, Fender found a c-store retailer who had installed a large and high-quality salad bar. The store was selling pots of salad for 13 euros and people were willing to queue for it. Fender said this was most likely due to the fact this was providing a fresh, fast and personalised option.
"In America, shoppers can use computers to choose their meal and this provides an easy way to upsell," he said. Fender pointed out that this would be especially effective as we come into a new age where millennials are happier interacting with computers than with people. Fender has visited US convenience stores which offer a full range of syrups to add to coffee. He has also seen shops offering self-serve areas, as well as baristas serving coffee.
Hot food
A hot food offering is essential in order to show you are serious about providing a wide range of food to go, said Fender. This could be as simple as bringing in a few microwaves and hot water dispensers. However, he warned that retailers must show they are serious about their offer and one microwave might not be enough to put across the message.
"It's important to make a feature of the service and ensure it looks like a wide and well thought-out offering," he said. He claimed that in Japan and Amsterdam, hot food vending machines offering traditional fast foods such as burgers and kebabs were very popular. "These may not fall into the 'healthy' or 'fresh' guidelines, but they offer choice, speed, personalisation and are easy to use," he said.
A store's food-to-go range should be inspiring and provide "a feast for shoppers' eyes", claimed Fender. It should be placed at the front of the store and should whet the shoppers' appetites. "Convenience stores around the world are moving away from the typical counter backdrop of an ugly tobacco gantry and are instead using the space to display tasty, fresh items of food to go," he said.
He added that if space permitted, retailers should consider providing a seated area where people want to dine. Providing free wi-fi and plug sockets alongside this is an absolute must.
Make it your mission
Davinder Jheeta, creative director at Simply Fresh, explained how the group was working to organise its stores according to shopper missions.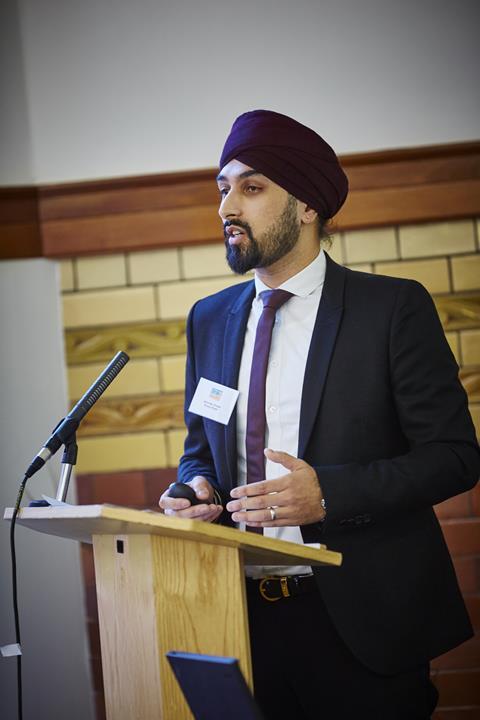 The stores offer meal-for-two deals - similar to Marks & Spencer - comprising one protein, two sides, one dessert and a bottle of wine for £9.
While looking to increase dwell time, Jheeta does not aim to interrupt or distract shoppers as he knows this is frustrating for them. Instead he provides lots of options and opportunities to upsell in one place.
Simply Fresh uses 'what's for dinner' banners to inform shoppers of the food items they can match to create different meals. These include cooking times because if a shopper sees it takes only 10 minutes to cook, they will be more keen to give it a go. The stores then have 'make it perfect' banners to indicate the extra items which would enhance the dinner.
The group has also been tapping into technology by sending out texts promoting the meal solutions in store and developing an app which offers exclusive loyalty points, promotions, recipes and ideas, and promotes customer loyalty.
The stores also have recipe cards with QR codes which shoppers can scan in order to receive the recipe straight onto their phone for when they get home.
Simply Fresh offers a wide range of ready meals. These include Italian, Indian, Chinese and Mexican dishes, as well as cold lunch solutions. "It's a great way to showcase the product and show we are serious about food to go," said Jheeta.
He added that Simply Fresh continues to supply healthy and interesting alternatives which are hard to find elsewhere, continuing its longstanding focus on offering fresh and healthy food.
Know your locals
Dan Cocks, of Premier Whitstone Village Stores in Devon, gave his take on the food-to-go opportunity, demonstrating how important it is to serve the needs of the local demographic.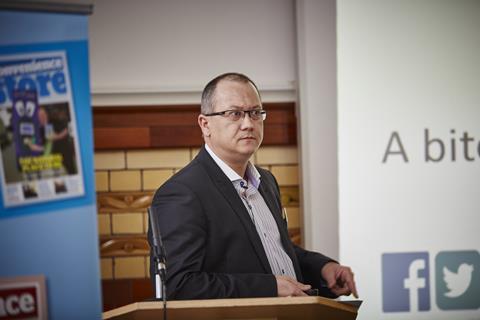 Dan's store is nestled within a quiet rural parish, with just 150 homes. However, it is also linked to the main road, which he calls the 'river of gold' as it provides him with a flow of commuters and tradesmen looking for a quick, hearty pick-me-up.
Dan said he had tried many different forms of food-to-go solutions over the past eight years, but he always ends up being asked for the same item - his traditional Cornish pasties.
"We've tried all kinds of rolls and sandwiches, but pasties are all that work for me so I've focused on that and tried to become the very best at it.
"I've created a pasty-eater's card - buy 10, get one free - which drives loyalty."
To spread the word further, Dan sponsors local events and supplies his pasties at events, while ensuring to inform people where they can go to buy them again in the future.
He's built up trust over many years by ensuring good hygiene and producing quality pasties which are always freshly cooked and served by friendly staff.
"In a busy urban setting people may not want to stop and chat on their lunch break, but for a farmer who may not have seen anyone all day it's the highlight of his day to come into the store and chat to somebody," said Dan.
He pointed out that even in a 1,000sq ft store he was able to offer the service in a modest fashion. "I have two tills and a hot food serve-over in the middle of the two tills. It's simple and any store could do it. There's also a cake stand behind the customers when they queue up, and there's a coffee machine by the front door."
He added that he was always looking for ways to improve his store and the next big step for him would be to create a seating area, having acquired the premises next door.
Some fresh personality
Roli Ranger's Londis store in Sunninghill, Berkshire, was used as an example of a store that offered fresh and healthy food to go with some added personality.
His product mix is 40% fresh food and he has made a feature of the fresh fruit, veg and bakery items. To add to this offer he has juice, slush and hot drinks machines.
To ensure his store is clearly serious about fresh food and has a cosy and coffee-shop feel, Roli has moved the tobacco gantry down to waist level so he can use the wall behind the counter to display spirits on artisan-style wooden shelving.
He keeps his offering relevant to his demographic by including locally-produced items within all product categories.
Convenience for commuters
Maura Tumilson, manager of McAuley's Centra in Chichester Street, Belfast city centre, prioritises quick, easy food to go in her store as there are a large number of office workers in the area who need to come in on their lunch break.
A hot food counter serves a wide range of food, including all-day breakfast, chicken curry, beef stew and daily specials. Meat baps, baguettes, wraps, salads and other such lunch items can either be bought pre-prepared or ordered at the deli counter.
As well as the hot food counter, there are hot food cabinets and two coffee machines to ensure people can quickly grab and go within their 30-minute break.
The store offered Christmas dinners during December, which Maura said were extremely popular, selling right up to Christmas Day itself.
Changing perceptions through meal solutions
David Charman, of Spar Parkfoot in West Malling, Kent, discussed how he has improved his meal solutions and changed the perception of the store so that it is seen as a convenience store first and a petrol station second.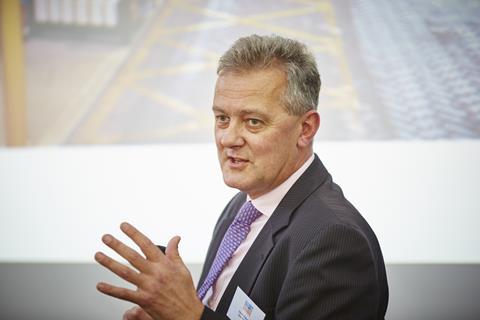 "We see new customers come in, get their petrol, then walk through the door and stand in complete shock as they start noticing all the different things. They then go and get a basket and 10 minutes later arrive at the till and say 'Well, I had no idea all this was here'."
When he started planning his move in this direction four years ago he knew he wanted a fresh meat and fish counter. "I didn't know anything about butchery, but I knew I could employ people who did, and then last year we started the fresh fish counter alongside it.
"We have a wooden display for the freshly-baked breads and pastries. There can't be many petrol stations where you would want to pick up a loose loaf of bread."
Demographics play a big part in this success. David explained that it is an affluent area with residents who don't work and have time to browse and speak to the butcher, while retired residents appreciate the store's full range of Cook frozen ready meals across five freezers. "We do the largest sales of Cook foods of all the forecourts in the country, which I'm proud of," said David.
"We are now at the point where our shop is driving our fuel rather than the other way round, and we have to go that way because that's where our future is."
One-quarter of c-store shoppers are going into stores on eat-now missions - as many as on the traditional newsagent mission
56% of c-store shoppers want to spend less than 30 minutes cooking
One-third of people eat lunch at their desks.
One-third of students are unable to boil an egg
48% of students are unable to make spaghetti bolognese
Only 18% of shoppers visit c-stores for food to go, and just 4% shop at c-stores for their meal for tonight.
Source: HIM Research & Consulting