Menthol and capsule cigarettes are banned from sale in the UK from midnight tonight.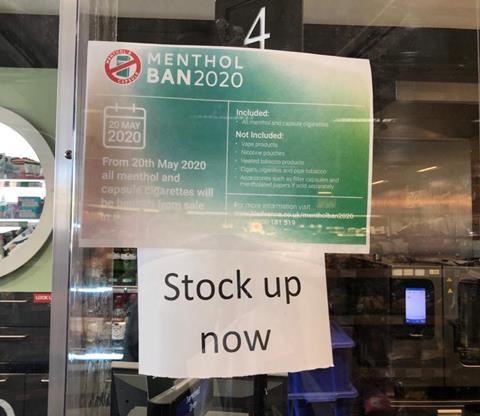 The ban, which covers menthol cigarettes including capsule and crushball lines as well as rolling tobacco if sold in a multipack along with menthol flavoured papers or tips, has been scheduled since 2014 as part of an EU Tobacco Products Directive. It is going ahead despite the coronavirus outbreak and the UK's departure from the EU.
Sellers caught breaking the ban will be subject to heavy fines and/or a custodial sentence of up to three months if convicted in a magistrates court, or two years at a crown court.
ACS chief executive James Lowman said: "It is disappointing that despite our urging, the government has not extended the 20 May deadline. Coronavirus restrictions mean that area managers, wholesale support teams and manufacturer representatives are not on the road and in stores helping retailers to comply, including removing product from stores.
"Retailers will have to do their best to sell through existing stock ahead of the 20 May deadline, and we have developed guidance and a poster to communicate with customers about these changes."
Retailers are still allowed to sell cigarettes described as 'green' or with similar names to a previous menthol product as long as the cigarettes themselves do not contain any menthol. If there is any confusion about which cigarettes products may or may not contain menthol, retailers are advised to ask their tobacco supplier. Once the ban is in effect, if there are any requests for 'green' cigarette products, retailers are advised to clarify that the product no longer contains menthol.
Further information and guidance
ACS has developed guidance for retailers with information on products included in the ban, when it will be introduced, penalties for non-compliance and how to communicate the ban with customers.
Informaiton and guidance is also available from tobacco manufacturers, including Philip Morris Ltd and JTI.
You can also view our webinar, the Future of Tobacco Retailing, on demand here.
A third of all menthol smokers are likely to switch to a new alternative following the ban on menthol cigarettes, according to new research by Populus, commissioned by Philip Morris Ltd.
Over 500 menthol smokers took part in the research which asked a series of questions to gauge how they are likely to respond after the ban comes into force on 20 May.
When asked what action they would take after the ban, a third of respondents indicated that it was 'likely' they would switch to an alternative, like menthol heated tobacco products or menthol flavoured vapes - both unaffected by the ban. This would mean roughly 420,000 smokers switching overnight.
Of the smokers likely to try a new menthol alternative, over half (51%) are likely to purchase these from vape specialists, the survey indicated. Many respondents are also likely to make their purchases from supermarkets (46%) and online retailers (43%), while just under a third (32%) said that they would purchase an alternative at a local independent retailer.

The Populus research also found that over a quarter (26%) remained unaware of the impending ban. Of those aware, the majority (41%) were informed of the ban by a friend or relative and only 22% were made aware when visiting a shop.