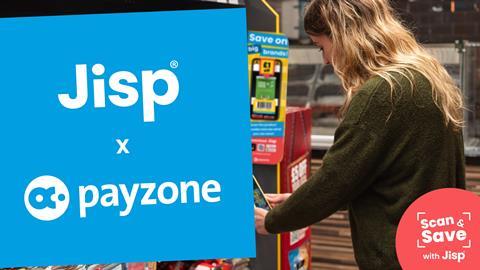 Jisp and Payzone have joined forces to allow retailers to offer integrated home delivery, click and collect, Scan and Save and store-specific loyalty services.
The two businesses will be offering retailers the integrated opportunity to use Jisp's 'Scan & Save' solution, via the Payzone Plus device, with a view to helping them drive footfall, sales and increase loyalty locally at no additional costs to them.
According to Jisp, participating Payzone retailers will build store loyalty every time shoppers use Scan & Save and redeem products. Jisp will promote leading promotions in-app and online to drive shoppers to their local Scan & Save store. In addition, Jisp will provide exclusive 24hr deals and reward shoppers for referring friends and family to help them save money and increase loyalty.
Jisp Media and Payzone will also raise money for GroceryAid through its collaboration with FMCG brand partners by donating money every time a customer interacts with Jisp's Scan & Save service in-store.