Bestway Wholesale managing director Dawood Pervez took the opportunity to praise independent retailers when invited onto Sky News' Ian King Show last week.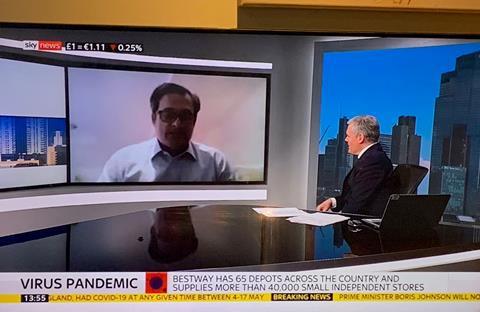 Speaking on the show on 21 May, Pervez said: "We have found our retailers have been amazing – they've done an amazing job for the communities they serve. It's important to think about the million delivery slots they've all stood up, or the 500,000 people they employ, or the hours they are working to ensure their communities are looked after."
King highlighted that food and drink manufacturers cancelled deliveries to wholesalers during the early stages of the crisis, and asked Pervez whether this was still occurring.
Pervez replied: "It has been a big challenge for everybody. Obviously, the demand for at home consumption is unprecedented. We saw the just-in-time supply chains and supermarkets fall over very early on, and it's understandable that suppliers did their best to try and fill those gaps. But I think that as a result of that, the eye wasn't on the prize – which was actually that social distancing could be better served by stock being available through local stores."