Tameside One Stop franchisee Vinay Parekh has seen significant growth in sales since switching to the model.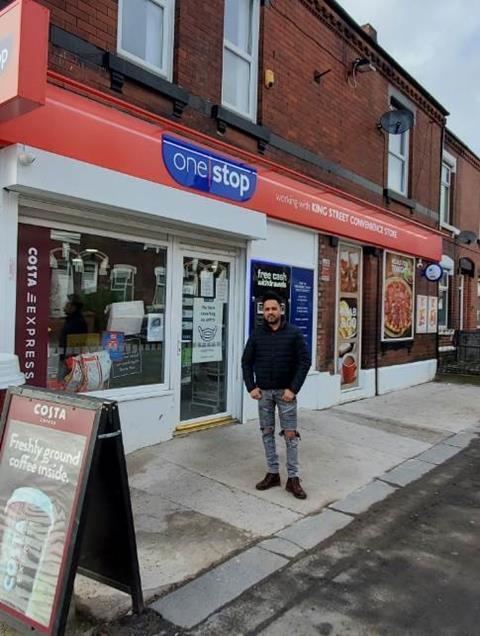 Vinay currently has two One Stop stores under 1,000 sq ft each and reported a 700% increase in the opening three months of trading with his first store in Tameside.
He explains how the business has changed. "We took over a store on Yewtree Lane, Duckinfield which was a run-down business and looked like it had no future. I'd had my eye on the business for a while, but it was the confidence and commitment that One Stop gave me that made me realise that I could make it work."
Vinay said focusing on additional services was key to success. "When we opened without extending the size we added in additional services, a Post Office, Costa Express Machine, Slush Puppie Dispenser and ATM and utilised all of the space available. For us to go in and invest like this has made a real impact for the community. Virtually overnight the store went from £3,000 a week turnover to over £24,000!"
Head of franchise John Miller said: "The results we are seeing from these smaller stores is a testament to what our customers need for their everyday needs. With the right offer there is a future for many smaller traditional news agents, who want to move towards being the local convenience store – offering more than tobacco, news, and impulse. Introduction of the services into these smaller sites bring footfall by serving the local community with what they want.
"Smaller stores are an attractive proposition to many Franchisees having lower investments; they still get the One Stop refresh and installation of our state-of-the-art technology. They are also easier to operate but still drive strong sales and profitability."
Vinay added: "If the location is right a smaller store means overheads are less and the turnover increases. Bigger stores means more staff and higher energy costs; basically, everything is doubled."
Following the success of Vinay's first store on Yewtree Lane he turned his attentions to another store of a similar size – under 1,000 sq ft.
"We took over a store on Kings Street," said Vinay "This was a small, rundown old fashioned sweet shop and newsagent and the owner was retiring and selling the building. We closed the store for a long period of time, added some space to make it 900 sq ft, and when we opened we went from zero to £15k a week! With amazing customer feedback and comments."
Vinay said he isn't going to stop at two. "These stores are working for us and One Stop's faith in me and so encouraging they have shown has been really good and guided me through the whole process. I now want to open more sites, because the model allows me to run multiple stores with ease – so the future is exciting."