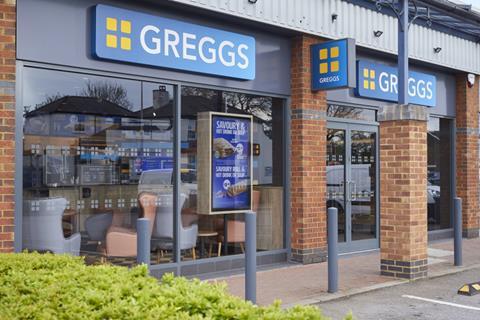 Gregg's has taken over from McDonald's as the leading brand in food to go, a new report has revealed.
According to the latest update to the Lumina Intelligence UK Food To Go Market Report 2021, Gregg's increased its share of occasions by 1.3ppts in the 12 weeks to 28 November 2021, increasing its market share of occasions to 10.7%.
The growth experienced by Gregg's was driven by sausage rolls, holding a 5% share of total food to go food items purchased. However, burgers still had the highest share with 19.2%, followed by sandwiches with 11.3%.
The Lumina report added that the return of people to work and schools in September helped to boost overall food to go sales, with 27% of visits to foodservice operators for food to go missions over the 12-week period. It added that travelling or commuting increased as a reason for a food to go occasion by +2ppts in the same period.
The report found that coffee shops and cafes maintained largest share of food to go occasions, followed by retail. This increased towards the end of October and November with consumers more likely to be out and about, looking for a convenient solution, with proximity (37%) increasing as a reason for choosing a venue (+1ppt).
Coffee and hot drinks also increased their share of drinks purchases. Coffee dominated drinks occasions, accounting for over two-in-five purchases (+3ppts). This increase in share can be attributed to consumers returning to offices and working lifestyles, as well as the cooling weather fostering consumer appetite for hot drinks. Hot chocolate and tea have also benefited from the move towards hot drinks, increasing by +2ppts and +1ppt.
Insight director at Lumina Intelligence Blonnie Whist said: "Throughout September, October and November, we have seen an uptick in the proportion of consumers purchasing food to go due to commuting or travelling. Consumers have been returning to the workplace, resulting in a buoyant period for operators, as food to go accounts for more than one-in-four out of home occasions."
"With the spread of the Omicron variant of coronavirus gathering pace, restrictions are starting to get tighter, with the government recommending people work from home where possible. This is likely to cause a fall in food to go occasions, however, operators and retailers in more suburban, residential areas remain well placed to capitalise on the "food to go home" trend and continue to drive footfall despite a less transient workforce."