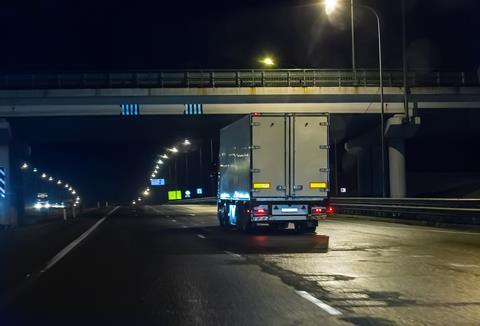 HGV drivers' hours are to be extended temporarily in an effort to alleviate the shortages and delivery issues being caused by a lack of drivers.
Secretary of State for Transport Grant Shapps announced the temporary extension of drivers' hours from 12 July on Twitter as well as a plan to increase the number of HGV driver tests.
We're aware of a shortage of HGV drivers, so I'm announcing a temp extension of drivers' hours rules from Mon 12 July, giving flexibility to drivers & operators to make slightly longer journeys. We've ramped up the number of driving tests available & will consider other measures.

— Rt Hon Grant Shapps MP (@grantshapps) July 7, 2021
Minister for Roads, Buses and Places Charlotte Vere also took to social media to announce the extension.
We're temporarily extending drivers' hours rules from Mon 12 July to allow HGV drivers to make slightly longer journeys where necessary, as we're aware of a current shortage of drivers. Driver safety must not be compromised & operators must notify DfT if this relaxation is used.

— Charlotte Vere (@CharlotteV) July 7, 2021
This temporary relaxation will apply from 12:01am on 12 July 2021 and will run until 11:59pm on 8 August 2021.
Under the temporary relaxation, there will be an increase to the daily driving limit from nine hours to 10 hours with drivers allowed to work 11 hours twice a week.
It is hoped that these measures will take some pressure off the food and drink distribution industry which has led to late deliveries, capping of product lines and shortages.
The Federation of Wholesale Distributors (FWD) chief executive James Bielby welcomed the temporary extension.
"This is just what food distributors needed – an immediate and obvious solution to what could have been a catastrophic supply chain failure," he said. "The flexibility in drivers' hours means those out-of-the-way shops, pubs and restaurants will get the stock they need for the big re-opening on Freedom Day, and will allow wholesalers to do as much as 15% more deliveries each day. Provided it remains in place into the autumn, it will avert possible school closures in September and shortages in the shops in the run up to Christmas."
Shapps' announcement on Twitter led to some concerns over driver safety if they're working for longer, which Bielby echoed.
"The safety of drivers and other road users will be top of mind when wholesalers decide where and when to use the extension. While it's the perfect solution to avert disaster, we recognise it is a stop-gap measure and government and the haulage industry need to work very hard on longer-term solutions, such as raising the profile, pay and conditions of the HGV driver role and incentivising younger people to take up the occupation."
He praised the government for acting on the issue which has plagued the food and drink industry for months.
"FWD was the first organisation to call for this, and is the only trade association to have been consistently lobbying government for a temporary extension of hours to allow wholesalers to serve independent retailers in rural and vulnerable communities. We faced huge opposition from the haulage lobby, unions and a sceptical government.
"We would like to thank Baroness Vere for listening to the howls coming from wholesalers and recognizing the scale of the impending disaster. The wholesale sector has been heard, and despite strong initial opposition, we have achieved the best result for distributors, their customers, and the UK economy."
Association of Convenience Stores chief executive James Lowman gave the announcement a more cautious reception. "We welcome this long-awaited pragmatic move from the government, which will alleviate some of the short term disruption to the supply chain as a result of the wider driver shortages. This does not however mean that the problem has been solved – government must continue open discussions with the industry to work on long term sustainable solutions to ensure that there are enough drivers on the roads to meet demand."