Want to make your store the talk of the town with little outlay? Running competitions either in-store or online could well be the answer
With business costs rising for retailers, it's becoming increasingly important to think outside the box to find ways to bring customers into your store, build relationships and, ultimately, keep them coming back for more. For an increasing number of c-store owners, running competitions is a winning strategy.
However, those with their eye on the prize point out that there are some rules to follow to get maximum impact from hosting such events.
Raaj Chandarana, of Tara's News, High Wycombe, says the best way to give a competition some impact is by offering a prize which will create a buzz and a lasting positive appeal.
"When you do a competition it should be something worthwhile with a big prize which will capture people's interest, stick in their minds and cause a real buzz on social media.
"When the hover boards were a big craze we ran a competition to win one of those. I bought one out of my own pocket at £80 to give away. I do feel like you have to go big in order to show your shoppers that you have some personality and that you're down with the kids!
"Although I don't think I got my £80 back in terms of sales, it did create a massive buzz and a prize like that is likely to have a longer-lasting effect thanks to the positive word of mouth."
Raaj asserts that it's not all about making money, but about connecting with the community and sticking in people's minds. "No one's going to write home about a few free bottles of Pepsi," he says.
The key to successful competitions, Raaj argues, is to promote them a lot on social media.
"The only way to stir an interest is by using social media and encourage likes, shares, tags, comments and so on. You can put some posters up in store, but people won't really take notice of them when they're in the store."
Top tip
The reach of a competition can be increased by asking entrants to nominate the individuals whom they think deserve to win the contest. This type of promotion is ideal for a community-focused competition which aims to reward people who are making a difference in their community.
Members of the community can then vote on the winner, or the retailer can choose one themselves.
However, each social media channel has specific guidelines retailers must follow in order to host a contest or giveaway on their site. It's vital, therefore, you ensure you review a platform's terms of service before establishing any sort of promotion.
The other important element, Raaj says, is supplier involvement. "What's required is suppliers' collaboration to offer prizes, rather than taking it from our margins. If the supplier has a new product out then they can provide a few for free. It's win-win as they will get a bit of extra awareness among my shoppers and they'll be providing a free prize."
Raaj recommends Kinder (Ferrero) as a supportive supplier keen to help out.
"For our Easter Egg hunt competition, Kinder provided us with a free hamper and £100-worth of vouchers, plus Easter Egg hunt kits. We organised that collaboration through its PR team Cirkle PR. Having a supplier help out like that makes the competition feel professional and well organised."
Easter parade
Bay Bashir hosts many charity competitions at his Belle Vue store in Middlesbrough and has built a strong bond with his community over the 22 years he's been in business there.
He agrees that Kinder has been great with its Easter egg hunt provisions.
"Our Easter Egg Hunt last year was one of the most memorable and joyful competitions I've hosted in the store. It was good to see all the children smiling and leaving the store so happy with lots of eggs."
Rather than hosting the competitions to aid his own business, he hosts events to help individuals in the community.
"A baby girl passed away last week so we have been generating interest in the shop to raise money for the parents to go towards the funeral. I sent a bunch of flowers to the parents when I heard, and I'm hosting a raffle. I've asked the cash and carries what prizes they can provide. I've got five Kindles from a KP Snacks competition that I won so I'm putting one of those in as the top prize."
Bay says he is always astounded by the way his community comes together to help out a resident in need.
"Last year a lady lost everything in a fire and so I asked people, through Facebook, to give donations of money and furniture. The response was so great that I had to get the local church to help me to take in all the donations. This isn't a wealthy community, but people were donating so many things, even Xboxes. In the end we had so much that we gave what was left over to charity shops. We also had enough money to pay for the lady to get new carpets, a washing machine and £50 cash to spend on her three kids.
"That made our store the centre of a big community effort and that is very important to me – that this store is the centre of the community. I feel like my shoppers are very loyal to me now."
Bay says it's thanks to this loyalty that he has managed to continue to enjoy year-on-year profit growth even after a Tesco store opened near his store 10 years ago.
"I like to help people in any way I can. I can't do that much by myself, but I can help to rally everyone in the area to help a good cause and that gives me a good feeling. And there's no doubt that it brings people back to the store.
"I couldn't put a number on the amount of sales these sorts of competitions have generated, but it's definitely created an ongoing positive effect."
Competitions are a regular promotional tool for Warner's Budgens. The communications team hold free prize draws on its Taste Club website, with the aim of driving footfall to the group's website and encourage new people to sign up to Warner's Budgens' loyalty scheme, as well as raising awareness of different brands. It also works as another way to thank loyal customers.
The group publicises the competitions on its Facebook page, too, and the group benefits from 'likes' on its page.
Community spirit
Julian Taylor-Green, of Spar Lindford in Hampshire, believes competitions don't always have to be about increasing social media presence, or even bringing people into your store, but help place the store at the heart of the community.
Julian says: "Before the school changed hands I used to do a colouring competition frequently with the local pre-school and nursery. I would have a different category for each age group and there would be a winner of each category. There would always be a theme such as Easter, Mother's Day, Christmas and so on. I would put the pictures up in my store, on the wall, or in the window, so people could see how many entries we had, and people enjoyed seeing them.
"That wasn't about bringing people into the store, but about getting them to think about the store and to really play a part in the community. The children are our future customer base so we have to build a good relationship with them from that age."
Julian also proves that competitions don't have to be limited to the four walls of your store. This year, rather than running an Easter egg hunt in his own store, Julian helped the local nursery school to run an Easter Egg hunt at the village hall. He spoke to Cadbury and they supplied him with lots of Easter eggs and he gave those to the event.
They may involve a little extra work, but Julian believes competitions are worth it. "They are a great way to build a positive relationship with shoppers and set your store in their mind as a good community store," he says.
"Once they come into store, that's the time to inspire them and keep them coming back."
Social media
Get snappy with Snapchat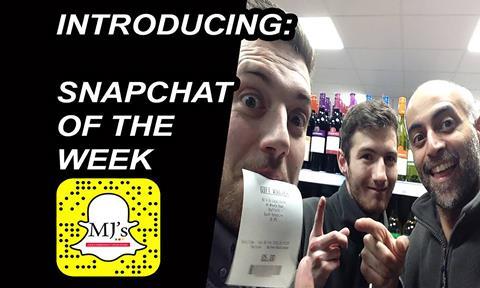 The big benefit of running competitions through social media is that entrants can be awarded in exchange for engaging with your profiles.
Whether it's through the use of likes, shares, follows, posts, comments or mentions, it helps to increase awareness of your brand and, hopefully, boost the number of followers and page 'likes'.
Jai Singh, of MJ's Local in Sheffield, is well-known for his effective use of social media to run competitions with his shoppers. He says it's quite easy and cost-effective to run competitions in this way.
"I used to do a Snapchat of the Week competition where I would ask people to send a picture of themselves to me via one of the social media platforms and I would pick the best one at the end of the week, put their picture on the digital screen in our store window and give them a fiver to spend in the store.
"That always got loads of people involved and now that I've stopped doing it for a while, people keep asking me when I'm going to start it again."
Trolley dash a speedy way to get publicity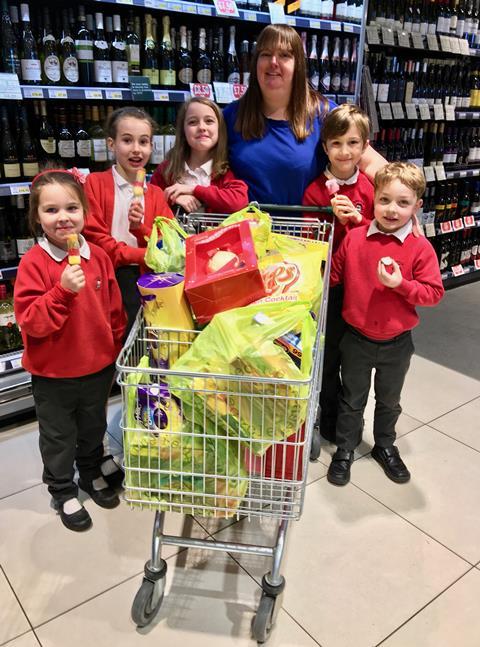 Alongside sponsorships, competitions play an integral part of Warner's Budgens strategy to be seen as a community-focused supermarket, whether it's running them itself or donating to others.
Its prizes have been far ranging, as Lucy Worrall, Warner's Budgens marketing manager, explains: "In the past we have had cases of wine, hampers full of goodies from a particular brand such as Dorset Cereal, a bouquet of flowers from our local florist, and tickets for local shows that we have been involved in, such as the Moreton Show.
"Most recently, we have been able to offer weekend camping tickets to Cornbury Festival in conjunction with our local community radio station, so it has been a jointly promoted exercise."
In April the Winchcombe store offered a 120-second store dash as star prize in the local school's raffle at a fundraising event.
Karyn Ballinger, who works at the school, grabbed goods to the value of £286. She said: "The trolley dash was such fun! It was so generous of Budgens to donate this prize, I just keep saying thank you! You do so much for our town."
The generosity was also welcomed by Victoria Leather, chairwoman of the PTA group. "We are blown away by the support our school has received from businesses such as Warner's Budgens. Nearly every local business in the town donated to the raffle for our recent fundraising event and do so throughout the year for many other events, too. Without this community support our children would be missing out on so many resources."
A competition was also a major element of the Winchcombe store's opening celebrations last April. The store asked local school children to design a cake topper for the opening event and the top three winning designs were made into celebration cakes by a local baker for the event.
The three competition winners also got to cut the ribbon, signalling the start of trading at the new store.