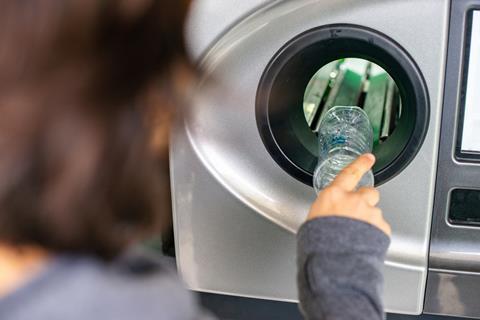 The Deposit Return Scheme (DRS) in England, Northern Ireland and Wales is set to be delayed until 2024 due to Covid-19.
The Department for Environment, Food and Rural Affairs (Defra) announced a second consultation into the scheme which would see it moved back from its original 2023 implementation.
The second consultation, which runs until 4 June 2021, focuses on the timeline, management and implementation of DRS in England, Wales and Northern Ireland.
Launching the second consultation, the government said: "Government remains committed to delivering on its commitments to introduce a deposit return scheme, but it also recognises that the Covid-19 pandemic has disrupted the economy and society in unimaginable ways, with many people reassessing their values, decisions and priorities in both the immediate and longer term. On this basis, our second consultation will build on the first consultation, offering a chance to explore further what the continued appetite is for a deposit return scheme in a 'post-Covid' context. The second consultation will also inform how a future scheme can be designed in the best and most coherent way possible to deliver on the objectives set out for introducing such a policy.
"With this in mind, we have had to reassess what a realistic timeline for implementation of a deposit return scheme looks like, ensuring that sufficient time is given for a successful roll-out of the scheme. We therefore anticipate that the introduction of a deposit return scheme in England, Wales and Northern Ireland would be in late 2024 at the earliest. We believe this revision presents a realistic yet equally ambitious timeline to implement a complex but incredibly important policy in the most effective way possible."
The consultation also presents two main options for the size of containers that will be included in the scope of the DRS regulations – 'all in' which includes containers up to 3 litres in size or 'on-the-go' system that excludes containers over 750ml, as well as containers that are part of multipacks.
Earlier this month, Scotland announced that there would be a review into the proposed launch date of its DRS and appointed Circularity Scotland as administrator of the scheme.
The Defra consultation also "recognised there is support for coherent schemes across the United Kingdom".
In response to the consultation, Association of Convenience Stores chief executive James Lowman said: "The introduction of a deposit return scheme has been talked about for several years, but there remain a host of unanswered questions about how a scheme would work in practice. We are committed to making DRS work, and the Government can develop the most effective scheme by following our principles on a well-designed scheme, strategically mapping return points and placing no obligations on retailers to take back containers manually. We will continue to work closely with DEFRA on the detail of these regulations."