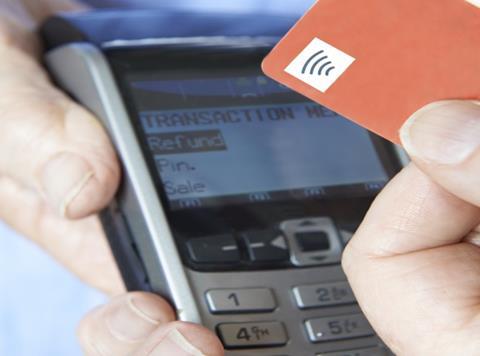 Contactless payments are set to make up almost half (47%) of all UK payments between 2021-2022, becoming the most common type of transaction, according to new research.
The VoucherCodes.co.uk Life after Covid: Prospects for Online Retailing, Physical Stores and How We Pay report carried out by the Centre of Retail Research (CRR), found that contactless payments are up by nearly a third (30%) since the start of the pandemic.
Between 2021 and 2022, it is expected that cash payments will account for just over one tenth (11%) of all purchases and that almost three-quarters (72%) of payments will be made by card within the next year.
The study showed that pre-pandemic in 2020, chip and pin was the most popular payment method, accounting for more than a third (37%) of all transactions in the UK. During the same period, only 17% of all payments made were contactless. However, between 2021-2022, chip & pin payments are forecast to decline to just 25% of all purchases and cash payments will see a sharp decline, accounting for just over a tenth (11%) of all payments by the end of 2022.
The switch has been attributed to changing consumer and retailer behaviour when it comes to paying for goods during Covid-19. Shoppers swapped cash for card for hygiene reasons, many retailers also stopped accepting cash altogether, and the contactless payment limit increased from £30 to £45.
Lifestyle editor at VoucherCodes.co.uk Anita Naik said: "Covid-19 has forever changed the way consumers spend their money. With exponential increases in online orders during the pandemic, combined with increased contactless limits and retailers implementing cash bans, people have quickly adapted to relying on contactless payments for the bulk of purchases as a result."