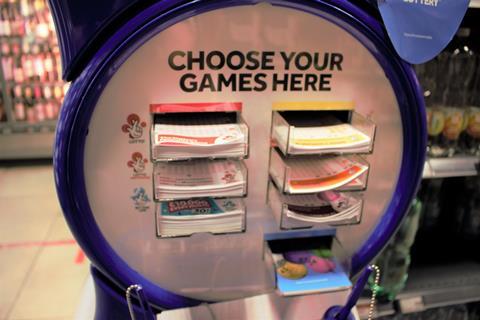 The government has launched a consultation on allowing 16 and 17 year-olds to sell National Lottery products.
This comes after it had increased the minimum age to buy and sell these products to 18, to bring the purchasing age in line with other restricted products such as alcohol and tobacco. However, the government found that increase in the minimum age to sell National Lottery products may cause "operational difficulties" for some retailers employing young people aged 16 or 17.
"We are therefore considering introducing a minor easement to the framework under which National Lottery tickets can be sold to reduce the impact on retailers, while ensuring the protections for young people underlying the original policy decision are maintained."
The consultation sets out two options for the situation:
Option 1 - Do nothing
This option would continue the current policy, meaning that the minimum age to both buy and sell National Lottery products will increase from 16 to 18 on 1st October 2021 and no additional change is made.
Option 2 - Introduce an 'approved sales' system
This option would introduce a system, based on the systems used for alcohol sales in England, Wales and Scotland, or tobacco sales in Scotland, whereby a transaction has to be approved should the employee be aged 16 or 17. It would be implemented with a statutory instrument by negative resolution.
The consultation will close at midday on August 12 2021 and responses should be sent to madeleine.cullum@dcms.gov.uk.
The government is keen to investigate the impact on all sizes of store. "For larger retailers like supermarkets, the possible impact lies more in the potential disruption for managers organising rotas, shift patterns and where and how National Lottery products are sold in store, e.g some retailers may no longer be able to sell directly from tills and may shift to selling in kiosks only. For smaller retailers like newsagents or convenience stores the possible issues faced may be more fundamental if somebody aged 16 or 17 is regularly in sole charge of a premises, and this is one aspect we are keen to gather more data or evidence about."
NFRN national president Stuart Reddish welcomed the consultation. "Staff in this age group provide an important part of the staffing of convenience stores at key times, including the weekend staff who are selling lottery tickets in the hours before the Saturday lottery draws.
"This is a victory for common sense that will help retailers maintain sales of lottery tickets and retain vital younger staff in their stores. We will certainly be responding positively to the consultation process on the proposed changes."