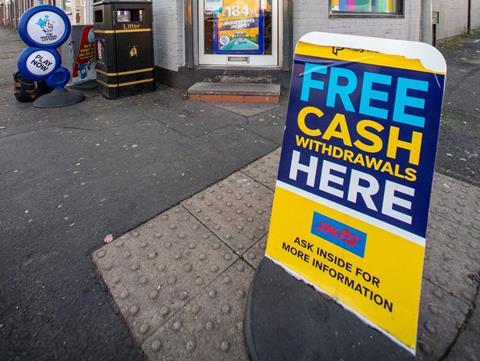 PayPoint is to double the number of its retailers offering cashback without purchase across the UK.
The scheme is already live in over 1,000 locations which will extend to 2,000 retailers by the end of the year.
PayPoint is the first of LINK's members to provide the cashback service, with LINK hoping that others will also take up the opportunity as the market develops.
The initiative originally formed part of the Community Access to Cash Pilots, led by Natalie Ceeney CBE and was piloted in shops across Burslem in Staffordshire (England), Hay-on-Wye in Powys (Wales), Cambuslang in South Lanarkshire (Scotland) and Denny in Stirlingshire (Scotland). However, its future was secured beyond the pilots following an amendment to Financial Services Bill 2021, which became law earlier this year.
Chair of LINK Consumer Council, Tracey Graham commented: "Protecting access to cash is absolutely vital for millions of people who depend on it. Cashback Without Purchase is a convenient new way for people to withdraw notes and coins at their local retailer. The Consumer Council is delighted to see this important service rolled out across the country and will continue to seek innovative ways to support people who rely on cash for as long as it is needed."
Chief executive of PayPoint Nick Wiles added: "This expanded rollout of our Counter Cash service, in partnership with LINK, is demonstrative of our mutual, long-term commitment to ensuring that cash access is protected. I look forward to seeing our network of retailer partners around the UK who offer Cashback Without Purchase services expand further in the coming months."
Abergavenny-based Londis retailer Berkan Yaman praised the service. "As a business owner I'm extremely pleased with the Counter Cash service. Previously, customers getting cash back would be charged 50p and I've had a great response from people who are now able to use the service for free. It's not just locals either, I've seen lots of new faces in the store since we started letting people know about Counter Cash on Facebook and through word of mouth. There's no question that this service is already providing real value to the surrounding area and I'm delighted that we're able to offer it via PayPoint."