With the food-to-go market booming, partnerships with the likes of Greggs and Subway seem like a sensible move. However, there are retailers electing to go their own way, working with smaller providers to give their store the edge. C-Store looks at how they are doing it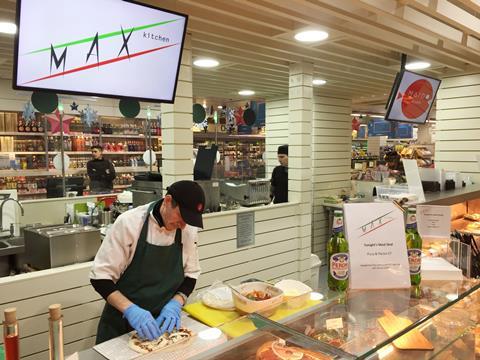 The decision to extend or revamp your business isn't something that should be rushed into, or taken lightly. Large-scale expansion projects are costly and time-consuming, which makes the option of adding a concession within an existing site all the more appealing.

Paul Gardner, owner of two Budgens stores in north London, was crowned Convenience Retailer of the Year for his Budgens of Islington site, with one of the store's main strengths being the success of its concessions which include a sushi bar, food to go and a butcher.

In Paul's store, outside companies run their businesses within Paul's premises, with Paul taking a cut of the sales. "The 20% commission that we earn on each concession works really well," Paul explains. "The concessions are great at bringing people into the store; sometimes they just come in for the butcher or the sushi bar and then it's up to me to get people to pick up something else while they're in the store."

Paul believes the skills and expertise that his concessions offer are among the main reasons that shoppers keep coming back to his store. He says he was lucky that he was approached by such a great bunch of entrepreneurs who wanted to set up and sell their products within his c-store.

He says: "All my concessions are run by people who love what they do - after all, it's their business - which means that I don't have to worry about waste or wages - but it's more about bringing people in and giving the store a unique selling point."

The Islington store's flagship concession, Max's Kitchen Italian, serves breakfast, lunch and dinner. The range includes pizzas as well as freshly prepared food to go and is one of the first things customers see when they walk into the store.

Such is its success that the concession has been given more space. "Sales at Max's Kitchen have been flying since we expanded the counter space into an L-shape," Paul adds. "They now have more space to prepare hot and cold dishes and we've also worked with Aryzta to set up a large food-to-go display beside the counter.

"Max and the in-store butcher are even working together to create pulled pork baguettes. My concessions help each other along and create something different and quirky in the store that customers can't find at the local Tesco Metro."

Maido Sushi, the store's in-house sushi bar, is another point of difference for Paul, with shoppers making a special visit during their lunch break to grab a meal.

"The bar is great for driving footfall," Paul asserts, "I suppose the concessions work in a similar way to PayPoint because they bring people in for different reasons, which then leads to more sales across the store."

He adds: "The great thing is that they don't take up much space either. All they need is a small space to move around in with a couple of fridges and some counter space with a sink area to wash up."

This efficient use of space is another reason why Paul believes concessions can be such a plus point for convenience retailers and their customers. "Whether you have a Budgens or a Spar, a butcher or sushi bar, as long as you have the right people everything works fine. We used to have a juice bar and chocolate concession but that didn't work out because the people who were running it weren't passionate enough about what they were doing.

"We are now looking to bring in a fishmonger to work with the butcher so they can help each other and learn how to cut the different meats."

Paul last month opened his second store, in East Finchley, and knew from the off that concessions would play a role there. "The butcher and sushi concessions are the kind of businesses that we want to bring to our second store in East Finchley," he says.

Tried and tested

Jason Bushnell, manager of Budgens Mortimer in Reading, Berkshire, has been equally impressed with his Jon Thorner's butchery counter. The concession has helped attract customers during the peak BBQ season and eased the pressure on his store during this summer's heatwave.

The butchery counter is one of only five Jon Thorner's-branded counters and is run by John Thorner's staff so the store doesn't have to pay any additional wages.

Jason says: "All the meat is UK sourced. This year Jon Thorner's did BBQ packs for £6. They do some to order and prepare some in advance.

"We keep 10% for raw meat from the counter and 28% for pre-packed. They put together sausages, burgers, ribs and so on and they sort out all the waste."

In addition to fresh meat, the product range also includes pies, quiches, ready meals, desserts and cakes.

Concessions such as Jon Thorner's not only offer shoppers good quality and value for money, but allow retailers to explore categries they may not have much experience of.

Edward White, owner of Spar Calver in the Peak district, used the concession model to break into the café market.

As someone who was unfamiliar with foodservice partnerships, Edward took a risk when he opened an Insomnia coffee shop within his rural convenience store. He says: "I hadn't had any experience of a franchised business before so when I was invited over to Dublin by the Insomnia team for a full day introduction to how the concept worked, I was very impressed and my mind was made up to join as a franchisee.

"Full barista training was given to all of our staff prior to the opening and when we opened we had a member of the Insomnia training team on-site with us for a full week for any additional support, guidance and training."

It seems the move has paid off for Edward. In the three years since opening the concession, the turnover of the Insomnia coffee shop has doubled and Edward now employs five members of staff to run it.

He adds: "The impact of running an Insomnia coffee shop alongside my Spar business is that food shoppers can now come in for a coffee and snack in a nice relaxed atmosphere.

"The advice I would give to retailers thinking about opening a coffee franchise is, as long as it is the right location, go for it."

Making it your own

Siva Theivanayagam, owner of six stores in Peterborough, is making the most of his in-store concession at Nisa Fletton, with a clear focus on the food-to-go mission.

He is one of a select number of retailers in the UK who operate a deli counter under Aryzta Food Solutions' Pierre branding. Since the unit opened last year, Siva has been singing its praises.

He says: "We were always looking to expand our food-to-go area and I realised early on that our old counter area was bringing people into the store. But we could see that we needed something a bit different and a larger space to be able to offer all of the fresh lines and keep on improving our range."

Siva's Aryzta deli counter is six metres long and twice the size of the store's previous unit. It offers cooked meats, cheeses, hot food and sandwiches in separate sections, to make it easy for customers to shop.

The team at Aryzta Food Solutions helped with the design and development of the concession, but Siva was given the freedom to decide what tempting products he would serve from the unit.

Siva is happy that his staff have the flexibility to change the food-to-go range to suit their customers. His freshly-made pizzas have been a particularly big hit.

He adds: "The benefit of working with a smaller company is that they helped us with all of the set-up, but all the wraps, sandwiches and salads are made and designed by me and the staff.

"It means that we aren't restricted like we could have been if we had gone with a bigger company."

Although Siva admits that only a handful of his customers would know the Aryzta brand by name, he believes his unit has some key advantages over the competition, including digital screens showing promotions running in-store.

It is little touches such as these that Siva believes sets his store's deli concession apart from others on the market.

"The brand works very well for us," he says. "We're always trying to improve the store and the Aryzta counter was the best way to bring new things to our customers and at the same time create a premium look and feel in the shop."

There is enough space behind Siva's Aryzta counter for staff to prepare a large range of dishes and they can even make enough sandwiches to supply his five other stores in Peterborough.

The deli produce has a 45% margin, while sandwiches generate 50% returns, and Siva is always looking to expand the range even further.

"We're now working with a local lady to offer Thai cuisine from the counter," he says, "which has gone down very well. I think shoppers like it when we try different things and it's one of the main reasons why they come to my store to pick up a meal and a bottle of wine, rather than going to the Tesco or Sainsbury's down the road."

As Siva has proved, concessions can be a good way of getting ahead of the multiples. However, additional staff wages can be a concern for many retailers looking at opting for a model such as Siva's.

Despite the counter requiring four staff to run it in the morning and two in the afternoon, Siva has managed to keep costs under control by carefully managing the concession's opening hours.

"Lunchtime is the biggest occasion for us, which means that it didn't work having the counter open in the evenings," he asserts. "We used to open the counter until 9pm, but we've changed that to 6pm to reassess how we cater for the evening market."

Never one to give up easily, Siva has now partnered with Cook to offer a more compelling range of frozen ready meal solutions for the evening occasion.

"We introduced the Cook frozen meals a few months ago, but they have already sold really well," Siva adds. "I think it's all about creating a food store experience that sets us apart from other retailers. It's really important that we go beyond the usual and have everything displayed properly in-store."

Dare to be different

Ancoats General Store (Simply Fresh) in Manchester, winner of Best Independent Store at this year's Convenience Retail Awards, certainly stands out for its unusual lines.

One example is plants and flowers from a nearby florist. The entrance to Ancoats features a large display of these, as well as a vintage clothing rail, courtesy of a local boutique.

Store manager Jay Patel believes these local concessions and business partnerships offer shoppers something extra that they don't expect to find while doing their grocery shop.

He says: "We're working with about 10 different suppliers in the local area to offer those unique and different kinds of products. We sometimes rent out space in the store or take a commission, but it's all dependent on what the vendor wants."

Jay is keen to encourage more local businesses to set up displays in the store, to help Ancoats strengthen its ties with the local community.

"It's all about getting those quirky products into the store that can't be found anywhere else," Jay asserts. "We're relaxed about the businesses we work with as long as what they sell would work well within the store."

"The best thing for retailers who want to set up concessions in their store is to get themselves out there on social media and see what kind of local businesses they can work with in their area."

As c-store retailers know, there are very few easy wins in retail. However, it seems concessions are a great opportunity for convenience retailers. As a number of high-profile operators are proving, partnerships allow store owners to make the most of every inch of their store without having to invest thousands in increasing their square footage.
Innovation
Gillett's steps up foodservice with more Subway sign-ups
Subway is expanding its partnership with Spar operator Gillett's Callington as new concessions are set to open across the south west of England.
Subway will open concessions in Pinhoe, Exeter, Bugle, Wool and Wareham before the end of the year. Appleby Westward operates 69 Spar stores as Gillett's Callington across Devon, Cornwall, Dorset, Wiltshire and Somerset.
Commenting on the partnership, Gillett's Callington operations director Phil Darch says: "We were attracted to Subway as we felt it would be a complementary fit for our stores and appeal to a younger demographic that we were looking to target."
Subway's new Fresh Forward format has also been installed at the chain's stores in Launceston (pictured) and Hayle, and will be rolled out to more stores at a later date. The redesign includes digital menu boards, free charging ports and revamped displays.
Subway now has more than 800 outlets in non-traditional locations across the UK and Ireland. These include hospitals, transport hubs, universities and colleges, petrol forecourts and convenience stores.
Regional director for Subway International (Europe) Justin Goes adds: "Non-traditional development, through partnerships such as this with Gillett's Callington, has been a key factor to Subway's growth in the UK and Ireland and we are keen to extend our collaboration in the future."
Subway is also trialling a new delivery service with Just Eat, which allows shoppers to order Subway food using the Just Eat app and website.
All Subway stores, including concessions within c-stores, can opt into the service providing they meet the company's eligibility criteria.
Subway is planning to roll out the delivery service to more than 500 sites by the end of the year.
Variety act from Eat 17
Concessions play a big role at independent Spar retailer Eat 17.
In its fifth and latest store in London's Hammersmith, customers are offered a restaurant dining experience with street food concessions. The area comprises three street food booths serving fresh dishes from local food concessions including The Pizza Project, Knowing Meat Knowing You and Empress Market Pakistani kitchen.
A new Leytonstone store set to open later this year is expected to break the mould, however, with a new feature: refillable milk stations.
Eat 17 co-founders James Brundle and Chris O'Connor are working with Tom Parker Creamery, based in the Meon Valley in Hampshire, to offer the service at the East London site.
The station is expected to be the first for UK retail and will be replenished seven days a week.