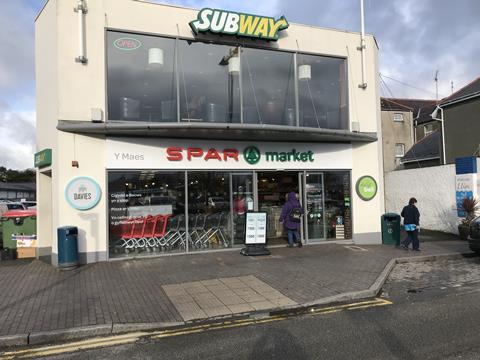 Want to boost team morale and open new trading opportunities? There's one simple way to do it, enter the Convenience Awards 2021, brought to you by Convenience Store, Lumina Intelligence and The Grocer.
As part of the Convenience Conference, we heard from three of our 2020 Convenience Awards winners about what they got from the accolade. Conrad Davies, who won the prestigious Convenience Retailer of the Year award for Spar Y Maes in Pwllheli, Wales; Empire Wines and Spirits, which won the Best Training Initiative and Nisa Retail, which was voted The Shoppers' Favourite Forecourt Fascia on the research side of the awards, all discussed how the award has helped their businesses and what opportunities it has created.
With 11 self-entry categories to choose from, as well as a selection of research categories, there's an award that suits your business. The face-to-face event will be held in September in London, following the 2020 ceremony being held virtually earlier this year.
The deadline for entries is April 2021, giving you the time they need to put your entries together, as well as serve our nation during these challenging times. For entry queries, please contact Jessica Mean at Jessica.Mean@wrbm.com.
ENTER THE CONVENIENCE AWARDS 2021
For sponsorship queries, please contact Cathy McDonagh at Cathy.McDonagh@wrbm.com.
The Convenience Awards 2021 self entry categories are:
Sales Colleague of the Year
The Sales Colleague of the Year award is a unique opportunity to share the amazing work achieved by team members who go the extra mile to help their local communities, raise money for national/local charities, and demonstrates amazing entrepreneurial spirit by suggesting profit-generating ideas.
Community Retailer of the Year
Your entry should describe how you are working with your store to help better your local community or the area surrounding your store. The Community Retailer of the Year category is open to all retailers who care about their local areas and want to use every resource at their disposal to help it.
Convenience Rising Star of the Year
The Convenience Rising Star Award is open to retailers of all ages who have opened their first store in the past two years. As well as examining sales results and customer engagement, the judging panel will be looking for examples of innovation from entrants, particularly around taking a new approach to any retailing challenge.
Customer Delivery Store of the Year
Delivery has exploded within the convenience sector due to the pandemic and more retailers than ever are embracing this service. This award recognises retailers that have implemented a successful delivery service that provides the dual function of serving communities and driving sales.
Sustainability Retailer of the Year
With sustainability and plastic high on shoppers' agenda, this is a chance to show how much you have improved your store's environmental credentials, with the award taking into account factors including energy use, waste management and packaging reduction.
Food to Go Store of the Year
Convenience stores have a big opportunity to satisfy customers and build sales with a compelling food to go offer, including sandwiches, hot food, impulse items and drinks to go, with solutions for breakfast, lunch, dinner and snacks throughout the day. This award will celebrate the leader in the field.
New Store/Refit of the Year
This award is open to stores that have opened from scratch, or re-opened after a significant remodelling, during the calendar year 2020. This award will be given to the store which, in the opinion of the judges, is the best example of a modern convenience store and is open to stores of all sizes, and any ownership structure.
Small Convenience Store of the Year
Any store smaller than 1,500sq ft in selling space, regardless of ownership or retail brand.
Large Convenience Store of the Year
Any store larger than 3,000sq ft in selling space, regardless of ownership or retail brand.
Independent Convenience Store of the Year
A single store or part of a group of 9 stores or fewer under the same ownership, trading under a symbol or retailer's own brand; (1,500 – 3,000sq ft in size).
Multiple Managed Convenience Store of the Year
Part of a group of 10 stores or more under the same ownership, or any store trading under a retail brand as part of a franchise programme; (1,500 – 3,000sq ft in size).
The Convenience Retailer of the Year 2021 will be chosen from the winners of the Large, Small, Independent and Multiple Managed categories.
The Convenience Awards 2021 research categories are:
The Shoppers' Favourite Convenience Fascia for Chilled & Frozen
The Shoppers' Favourite Convenience Fascia for Impulse Categories
The Shoppers' Favourite Convenience Fascia for BWS
The Shoppers' Favourite Food to Go Fascia
The Shoppers' Favourite Forecourt Fascia
The Shoppers' Favourite Symbol Group
The Shoppers' Favourite Managed Convenience Fascia
The Shoppers' Favourite Convenience Fascia
The Retailers' Favourite Product Launch
The Retailers' Favourite Supplier Salesforce
The Retailers' Favourite Convenience Fascia for Category Support