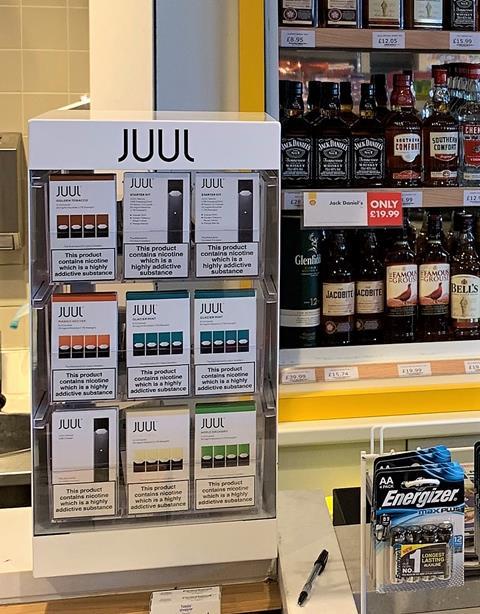 Vaping products from US vaping giant Juul are now available in more than 500 Motor Fuel Group (MFG) forecourt stores as part of a partnership with Juul Labs UK.
MFG went live with its range of products, including the Juul Starter Pack and five flavoured Juulpod refills, on 8 March 2019.
The deal will initially see almost 500 MFG sites stock the core Juul range with other stores in the 900-plus estate coming on-board after the initial launch.
The company, which launched in the UK last year through specialist vaping stores, is "heavily targeting convenience."
Last month it announced plans to invest in a dedicated field resource for the symbol and independent retail channels, with the company tripling its field force by the end of April.
Juul Labs UK sales director John Patterson said: "We are delighted to be working with MFG to introduce the Juul range to convenience customers. In the US, Juul is the market leader in the vape category with over 75% market share in convenience stores.
"Adult smokers expect to see alternatives to smoking in the stores where they have traditionally purchased their tobacco products and that's why convenience is such a major strategic focus for us."
MFG retail director Paul Dennis added: "At MFG, we are always looking at ways to stay ahead of the curve and being first to market with new products is one of the ways we can add value and differentiate our stores from other forecourt sites.
"I believe the opportunity for the UK vaping channel is huge and improving and enhancing customer choice in the tobacco alternative category is a priority."
Juul operates with a closed system of Juulpods that provide product quality and consistency and click intuitively into the top of the device.
The Juul Starter Pack (including four sample Juulpods) has an rrp of £29.99 and Juulpods are also available in a two-pack with an rrp of £5.99.