Vape brand Juul has partnered with Bestway Wholesale as it continues to grow its distribution in the independent convenience channel.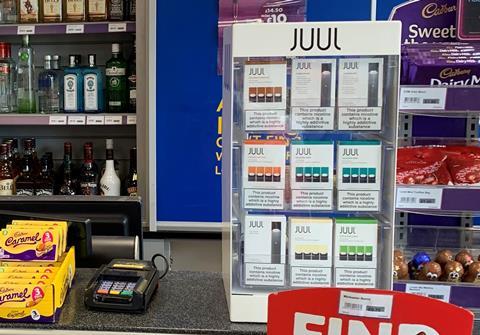 The core range of Starter Kit and five Juul Pod flavours will be available in 10 Bestway and Batleys tobacco rooms from 24 May - with further depots on-boarding once Juul's age-verification process has been tested.
Bestway customers who purchase Juul products will be required to agree to operate Challenge 25, (Juul's mandatory age-verification requirement) in order to prevent access to the category by anyone under the age of 18.
John Patterson, sales director of Juul Labs UK, said: "Independent retail is a key strategic focus for Juul as we aim to make our products available in stores that are traditionally used by smokers to purchase their tobacco products.
"Independents and symbol retailers account for 45% of tobacco purchases but less than 10% of overall vape sales, so the opportunity for the channel is huge and we estimate it could be worth an incremental £750m a year by 2020 if convenience gets its fair share.
"Juul's deal with Bestway will help independents address this imbalance in the vaping category and accelerate JUUL's mission of improving the lives of adult smokers."
Kenton Burchell, trading director at Bestway Wholesale added: "Tobacco has always been a key category for Bestway and Batleys depots - and will continue to be so - but we also have to look at emerging categories and how we can help our retail customers maximise potential opportunities, especially around the Vape category."
"We have worked extremely closely with Juul to list the range and to ensure that we have a process in place which complies to its age-verification Challenge 25 programme including staff signing up retailers at the till point in tobacco rooms and working closely with the Juul Field Sales Teams to ensure that the Challenge 25 programme is being adhered to.
"To be the first national wholesaler in the UK to stock Juul further reinforces Bestway's leadership in NPD within UK wholesale."
The selected Bestway depots are Abbey Road, Hackney, Manchester, Liverpool, Birmingham, Brighton, Team Valley and Exeter and Batleys Leeds and Southampton.
Juul products were also launched in more than 500 Motor Fuel Group stores in March.