A year after his 1,600sq ft store's £100,000 refit and Shopper First rebrand, owner Sagar Patel has seen weekly turnover increase to an impressive figure.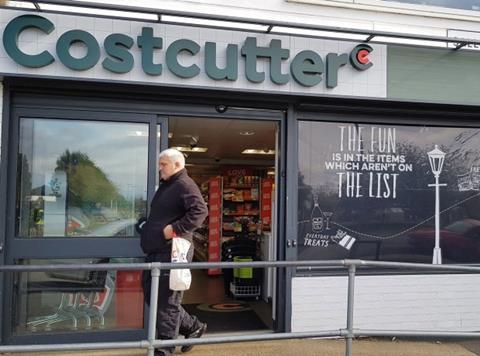 It's all hands on deck when C-Store arrives at Sagar Patel's Costcutter store in Huntingdon, as the store has just taken a chilled delivery. Members of staff are darting about, quickly emptying boxes and filling up shelves. Even the cashier is busy polishing spirit bottles in quiet moments between serving customers. "I've got to give it to my staff - if they see anything that needs doing, they'll do it straight away," says proud Sagar.

He injected £100,000 into the store last year and revamped the product range as part of Costcutter's Shopper First rebranding programme. But looking at the store now, you could easily be forgiven for thinking it had just re-opened.

"The biggest challenge with the new store is making sure you keep your standards high," says Sagar. "I've seen stores where they've had a refit and you go back a year later and they've let things go. I think if you invest that type of money you can't just say 'ok, it's done now'. It needs constant care."
Store Facts
Costcutter Huntingdon, Cambridgeshire
Store size: 1,600sq ft
Refit cost: £100,000
Customer base: Families, students, local workers
Average basket spend: £7.50
Key products: Fresh fruit and veg, chilled produce, Eastern European lines, e-cigs and vaping
The biggest change was a 40% increase in chillers. "We installed three double door Arneg chillers, which are energy efficient," explains Sagar. He made space for them by cutting back on ambient goods. "Before, our ambient was so massive - we had four varieties of ketchup whereas now we only have a premium and a value line for most products." He was a little apprehensive to begin with, he concedes. "The more chillers you put in, the more expense you're going to have in terms of electricity. And I was quite concerned about getting rid of a lot of the ambient. But as soon as I visited a Shopper First store and saw what they'd done with the range, I was confident that it could work." Indeed, chilled sales are up 12% since the refit.

The shopper research conducted by Costcutter had highlighted a need for more meal solutions. "As soon as they come into the shop, customers now see the fruit and veg and they can build a meal."

There's also a good selection of meat, which customers have warmed to over time. Sagar notes that bacon and Co-op mince are good sellers."If things don't sell to start with, I'll order them again and again. If it doesn't go after four attempts, then I'll accept it isn't working. But a lot of the time, the first time people see a product they might not want to buy it that day, but they'll know we stock it next time, such as our two for £4 on chicken goujons and kievs."

Meat is also supplied by local butcher Daveys and customers can order in sirloin or t-bone steak, while his Eastern European customers can enjoy an increase in his selection of Polish, Lithuanian and Romanian foods from 1.5m to over four metres.

Food to go has also come under the spotlight with the introduction of a Country Choice Bake & Bite unit to join the existing Rollover Hotdog stand. The store now has a dedicated baker and customers can't get enough of the hot pies and croissants, with food to go sales up 60%.

The adjacent coffee machine has only been on the scene for four months, but is performing well. "We introduced a Costa machine as part of the refit - it was one of those fancy new touchscreen ones where you could get a milkshake. We sold 50 or 60 cups on the launch day, but then it kept breaking down. The support wasn't great, so when something went wrong we'd wait too long for an engineer." Instead, Sagar sourced an Espresso Essentials. "You rent the machine for three years and then you own it outright and we just buy the stock off them." The coffee sells at £1 a cup (compared with £2.30 for Costa) and Sagar takes 60%. In autumn he was selling 20 cups a day, but come winter, he's expecting this to double. He's also trialling a meal deal. "We're currently trying out a hot food to go offer - either a sausage roll or a pasty with a coffee."

Another success story is the vibrant e-cigs and vaping section, which is unmissable behind the counter (tobacco products are now in drawers). "Before, we had a small counter display and we were selling £80-£90 a week," he says. "Now, the most we've taken in a week is £1,200."

He has also just finished trialling a click and collect service, which will go live shortly.

Now that his hard work is paying off, Sagar is convinced the refit was the only way forward. "If you sell £20,000 of cigarettes, you're not really making anything. You need people to buy into food to go and chilled as that's where the money is at the moment," he says. "My mentality was, if we need to update the store anyway, we may as well do the whole thing. It's just reinvesting into the community. If our customers are loyal to us then we want to give them the best shopping experience we can."