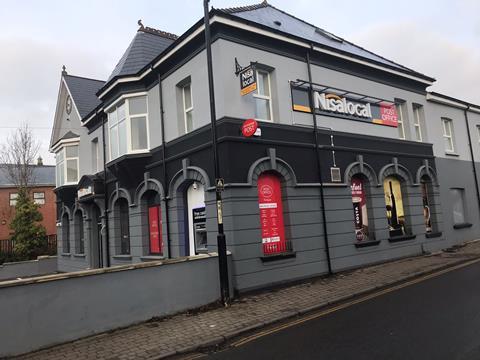 A disused derelict pub in the Welsh town of Abertridwr has undergone a makeover and re-launched as a Nisa Local.
The premises had been empty for over 20 years. Independent retailer Shabaz Akram then invested in the site, creating a 3,000 sq. ft. store beneath 10 luxury flats over the course of five years.
Shabaz, who has operated a convenience store in the area for the past two decades, said he made a "calculated risk" when purchasing the property, knowing it would be a huge project. "The building was in ruins really – it was like something out of a horror movie," he said. "There was a basement but no actual ground floor, just a gaping big hole. Every window was smashed and the structure of the building itself was unsafe."
"The building has quite a history in the village and has some meaning for the people who live here so it was important to me that we got it right.
"I had a vision in my mind and knew what I wanted to achieve. Everything in the store, it's all my ideas; the colours, the shelving, the lighting, and the floor. I didn't have drawings; I just could see in my head what I wanted it to look like."
The premises was completely rebuilt, with a new timber frame erected within the existing building walls. The store makes use of the latest technology with automatic LED lighting which is economical and environmentally friendly, operated by an app.
Shabaz continued: "Shoppers have been amazed by what we have done to the store. Nobody could see what we had done internally because we kept the windows boarded up and so when it was revealed they were absolutely blown away.
"I don't think there are many shops now that have the real wow factor, there are lots of stores out there that look just like each other, but this is different – everything has been done to the very best standard and I am delighted with the finish."