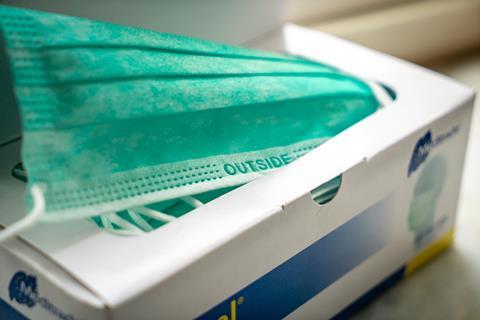 Research conducted in town centres across the UK has found that the failure of retail staff to wear masks is preventing customers returning to shops.
In a recent survey, mystery shopping and market research experts Storecheckers sent mystery shoppers to 130 stores in 10 retail centres across England and Wales to monitor the proportion of people wearing of masks and then assessed how this impacted on their perception of COVID care & security as well as their willingness to return to each store they had visited.
The research revealed 84% of the 1,000 customers seen were wearing masks, however, one in three of the 400 staff had no masks on.
Its findings showed that the government position of staff not needing to wear masks is having a detrimental effect on shoppers' willingness to come back to shops. It found that 64% of shops that had full staff adherence to mask wearing saw no customers without masks while in sites where not all staff had face covers, only a third had every customer wearing a mask.
Within the 10 centres, the 'no mask worn by customers' mix varied from 0% in Northampton to 80% at Cardiff (where the wearing of masks was not mandatory). Northampton also had the lowest proportion of staff without masks, at 15%, while in Bradford 57% of shop floor personnel did not have facial coverings.
Enforcement
Although staff are not obliged to enforce the legislation, the study found that in the 50% of shops where customers did not have masks, staff were reticent to approach customers. It found that:
- Only 6% asked people to put on masks
- Just 2% offered masks to wear
- No customers were asked to leave
Customer safety
The Storecheckers research also found that visitors felt safer in stores where all staff had masks, with 60% feeling 'Very safe' or 'Safe' in the shop's COVID environment, against 43% 'Very safe' or 'Safe' where not all staff had face coverings on. The gap in confidence to return is even greater – 93% felt 'Fully Confident' or 'Quite Confident' in returning to shops where all staff had masks. This fell to 50% where shop floor teams were not wearing facial protection.
Storecheckers' managing director Jeff Caplan said: "Shoppers are showing caution in returning to the High Street and this is holding back recovery. Recent action by the government [to increase the fine for non-compliance] shows the import they place on the role that masks play in controlling the COVID virus and these findings indicate that customers have the same feelings. Staff have freedom to not wear masks, however in doing so they are lessening the chance of shoppers coming back to their stores."
Although shop floor staff in England are not required to wear masks, many store owners have made it mandatory for team members to do so for their own and customer protection.