Convenience stores across the country are supporting community efforts to mark the 75th Victory In Europe (VE) Day on 8 May, when the Second World War came to an end in Europe.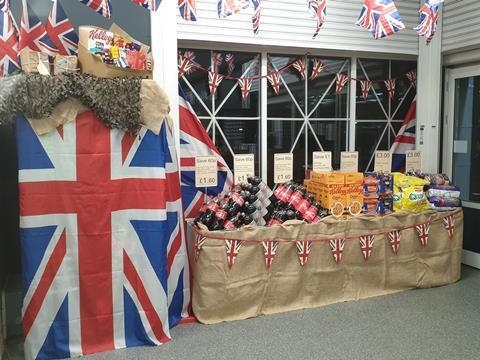 With the coronavirus outbreak having put a stop to mass celebrations, a number of stores have switched their plans to help customers hold their own VE Day Stay At Home Parties and mark the occasion whilst still maintaining social distancing requirements.
A number of stores are sharing 1940s songs, dance steps, and recipes for people to create in their own homes and gardens, while others are decorating their interiors and exteriors with bunting, flags and balloons.
Select Convenience in Bents Green, Sheffield, is sharing VE Day 75 pictures via social media for local children to colour in and send back so the store can display them in its window.
The store is also sharing an array of food, drink and game ideas and for people to create at their own Stay At Home parties.
A number of Central England Co-op stores have been dressed up with VE Day themed decorations and the society has also produced a special downloadable VE Day themed colouring sheet to help keep children entertained during the festivities.
Staff at the society's Erdington store in Birmingham have also created displays of traditional products to give shoppers the feeling of "going back in time."
They will also be marking the VE celebrations by dressing in vintage attire on 9 May.
Store manager Dan Goodby said: "We wanted to do something different to mark this special occasion and also boost morale for colleagues.
"We also wanted to mark the VE Day anniversary for the community any way we could, given the current circumstances, and when customers come in to see us hopefully it gives them a little smile."
Mike and Deborah Dorey from Eastcombe Village Stores in Gloucestershire are dressing up their store-front and interior with bunting and Union Jack Flags.
"Prior to the virus we were planning on taking part in a big community fair that would have taken place on the green in front of the store," Mike told C-Store.
"Clearly, those plans have now been cancelled but we are still trying to keep moral up and mark the day as best we can.
"These are worrying times for many people in the community so it's nice to be able to focus on something else, something positive for local people. There are still smiles and laughter to be had," Mike added.
Cletwr community shop in Machynlleth, Mid Wales, is also helping to spread "a bit of light" with an 'open mike night' via the Zoom app.
The store has already held two successful open mike night events via zoom, with 26 local people having signed in to the last one. It is also hosting a Pop Up Pizza van allowing local people to pre-order wood-fired pizzas from a van for collection at set times.
"These are challenging times so we are doing what we can where we can to bring people together and have a smile, a song, and a bit of light relief," business manager Karen Evans said.