Spar wholesaler and retailer CJ Lang has successfully implemented safety and social distancing measures across every Spar store in Scotland.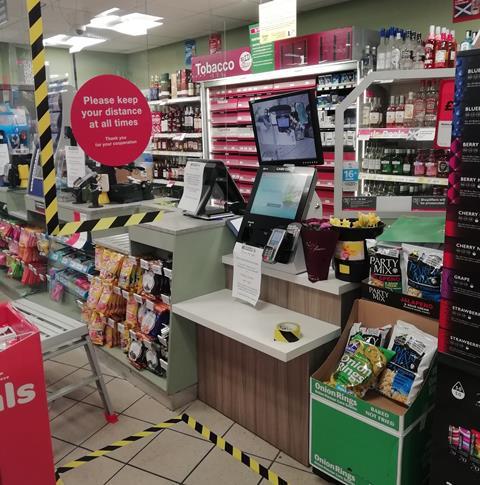 All 300-plus company-owned and independent Spar stores in an estate strecthing from the Scottish Borders to the Islands have received information packs for internal and external communication and a variety of measures including Perspex screens at till points, tape and vinyl's on floors. The equipment has been deployed and fitted by CJ Lang's in-house store development teams and by independent Spar retailers.
Adverts relating to safety and social distancing are also being played on the group's in-store radio service.
Innes Macdonald, an independent Spar retailer from Culbokie and Kinmylies, Inverness said: "It has been great to get this social distancing support from our wholesaler CJ Lang. It is really important to provide our staff with reassurance as well as consistently practising safe social distancing and complying with all other standard health and safety requirements. The Perspex screens, tape and floor vinyls, along with advisory posters have made a real difference to both our staff and our customers."
Colin McLean, ceo of Spar Scotland, said: "It is essential that all our stores act responsibly in order to protect the health of staff and customers who should all follow social distancing requirements.
"I am very proud of the work our store development teams have done by fitting out every Spar store from the Scottish Borders to the Islands. We have provided everyone with information on how to protect staff and customers, how to manage entry into stores, encouraging staff to regularly wash their hands with soap and water as often as possible.
"We have put up Perspex screens at all till points to further reduce the risk of infection for all parties involved, cleaning the barriers regularly and where possible advising staff to keep two metres apart."