The Co-op is calling on English local authorities to speed up the rollout of food waste collections from homes and to permit the use of compostable carrier bags as food waste bin liners, a move which it says would help it produce 60 million fewer plastic bags.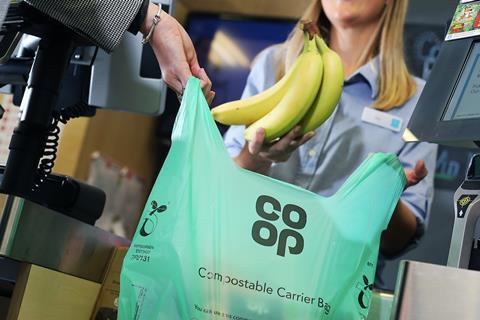 Currently 156 English councils (48%) do not have a kerbside food waste collection, while of the 169 that do, 12% do not accept compostable bags.
The Co-op has written to all these local authorities calling on them to change their position and reduce plastic contamination and the amount of food waste going to landfill.
The society's plea comes as new figures reveal that approximately 1,000 tonnes of food ends up in landfill each day.
The Co-op also believes that a large number of the 1.75bn single-use plastic bags in circulation could also be replaced with compostable-friendly alternatives.
More than 1,000 of its stores now offer shoppers compostable bags, which can also be used as food waste caddy liners, in communities where they are accepted by the local authority in the household food waste collections.
The Co-op has also committed to make the compostable carriers widely available through its wholesale operation if local authorities and the government commit to accepting them in food waste collections, saving more than five million plastic bags a month from ending up in landfill.
Proposals being developed by the government will see all homes receiving weekly food waste collections by 2023, but twice as much of the total food wasted in the UK a year could be recycled into energy and fertiliser, if this were to be introduced quicker, it added.