Convenience stores accounted for 14.7% of all UK grocery sales in the past four weeks to 14 June, according to new market share data from Kantar.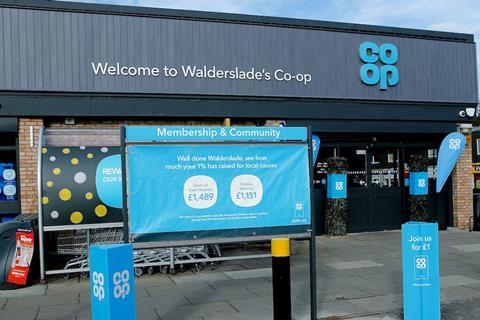 This share ls below April's peak of 16.3%, the company points out, but still considerably above normal historical levels. Independent retailers have seen sales growth of 69.3%, while the market share of the Co-op – the UK's biggest convenience operator - now stands at 7.4%, representing its highest figure since March 2001. On an annual basis, shopper behaviour during lockdown has boosted the independent convenience sector's market share from 1.6% to 2.6%.
Take-home sales from British supermarkets overall increased by 13.7% year-on-year in the 12 weeks to 14 June, says Kantar, but the relaxing of lockdown rules is starting to ease the market back towards pre-pandemic shopping patterns. Although shoppers made 77 million fewer trips to the grocers in the latest four weeks compared with last year, the level has risen 19 million more than in May, reflecting the slight easing of government restrictions. Customers spent 42% more per trip in June 2020 than in the same month last year, at an average of £26.37.
Overall sales growth over the four weeks to 14 June accelerated to 18.9%, up from 17.2% previously, with the boost led by online sales, which have continued to accelerate, and convenience stores, which took £1.6 billion through their tills during this period.
Online grocery sales rose by 91% over the four weeks, with the increase in available delivery slots across the sector meaning nearly one in five British households bought over the internet in the month to mid June, a total of 5.7 million shoppers.
The boom in deliveries meant Ocado achieved its highest ever market share – hitting 1.7% over the past 12 weeks – while sales at Iceland rose by 31.4% over the same period, reports Kantar. Meanwhile, Tesco sales were up by 12.1%, and Sainsbury's by 10.2%, with both enjoying strong growth in their convenience estates and online operations.
Asda increased sales by 6.3%, now taking a 13.9% share of the market, while Morrisons grew sales by 10.5%, with a market share of 10.1%. Lidl's sales growth of 14.3% moved its market share to 5.8%, while Aldi's sales increased by 8.0%, resulting in a 7.5% share. Waitrose sales rose by 8.6%, giving it a market share of 4.8%.
As pubs and restaurants remained closed, alcohol sales through the grocers continued to boom, growing 43% in the past four weeks. Elsewhere, good weather in June and shoppers getting the green light to meet friends and family outside their household meant picnic favourites were in high demand. Sales of soft drinks and chilled dips increased by 28% and 30% respectively. There were also signs of British consumers making the most of early summer – as ice cream sales rose by 57%, burgers by 44%, and sausages by 40%, the company added.