Ferrero is set to spend £2.7m on media throughout spring 2020 to promote its seasonal offer, and support the launch of 10 new products designed to complement its core Easter range.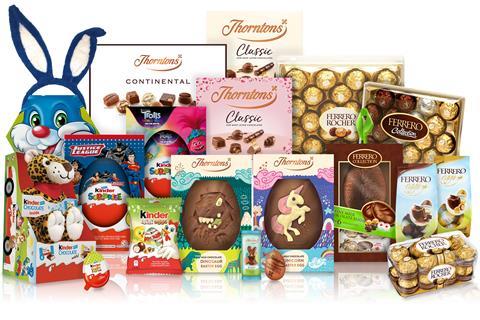 Levi Boorer, customer development director at Ferrero, said: "We expect to see shoppers planning in advance and being more considered in their purchasing decisions for Mother's Day and Easter.
"We would therefore encourage retailers to stock up early to make sure they meet the demand for those shoppers looking to purchase in advance. On the flipside, Valentine's Day is quite last minute for shoppers, so it's important to be big and bold two weeks prior to the day to yield success."
Easter Eggs
Driven largely by NPD, the total Easter eggs category performed well in 2019, growing by +3.7% [Nielsen. Total Easter Confectionery - 12 weeks to 20.04.19 vs. 12 weeks to 31.03.18].
To drive sales in 2020, Ferrero is bolstering its eggs range with an array of products to appeal to shoppers throughout the Easter period.
The Kinder range will be strengthened with the launch of two new Kinder Surprise eggs that include bigger toys and relevant licenses. The new Kinder Surprise 100g will see Justice League and Trolls toys featured, while the larger Kinder Surprise 220g eggs will receive a Marvel Avengers update.
Thorntons will also be adding two new products to its range. Sitting alongside its bunny Easter egg offering, the new Dinosaur and Unicorn eggs (151g) will feature eye-catching designs to appeal to kids.

For adults, Ferrero is launching a new premium option, known as the Ferrero Collection Egg (240g). Featuring a milk chocolate shell, the egg also incudes six Ferrero Collection chocolates (Ferrero Rocher, Ferrero Rondnoir and Raffaello).
Treats & Novelties
The Kinder Joy Easter range will undergo a revamp in 2020, which will see sixteen different toys launched. The updated selection is designed to encourage early seasonal sales.
Kinder will also introduce a new Mini Eggs option, made for shoppers to enjoy on the move or for sharing with the family as a small treat. Made with a milk chocolate shell, the mini eggs are filled with a soft hazelnut centre.
Thorntons is also expanding its presence in the impulse treat sector with the introduction of a Thorntons Bunny (29g) and Thorntons Chocolate Caramel Egg (36g).
The Kinder novelties range will also be boosted by the launch of the Kinder Mix Bunny Headband. The 167g product will feature a selection of Kinder Mini Bueno, Kinder Mini Chocolate and Kinder Mini Chocolate with Cereals for families to share.
In addition, Kinder Chocolate is adding to its fluffy toys range, welcoming a new Leopard (73g) that joins the bunny and sheep novelties.
Boxed Chocolates
Following an extension of its recent Classics makeover, Thorntons is giving its boxed chocolates a spring twist next year with a new packaging update available throughout the season.
Designed for shoppers who want an Easter gift, Thorntons Classic With Love box aims to drive the brand's relevance across seasonal gifting occasions.
Price List
Thorntons Dinosaur Kids Egg, 151g, rrp £3.23
Thorntons Unicorn Kids Egg, 151g, rrp £3.23
Thorntons Bunny Impulse, 29g, rrp 75p
Thorntons Caramel Egg, 36g, rrp 75p
Thorntons Classic With Love, 150g, rrp £4
Ferrero Collection Egg, 240g, rrp £13.34
Kinder Surprise Egg, 100g [Justice League & Trolls License], rrp £6.35
Kinder Mix Bunny Headband, 167g, rrp £7
Kinder Joy, 20g, rrp £1.14
Kinder Chocolate Fluffy Leopard Toy, 73g, rrp £7.51
Kinder Mini Eggs, 75g, rrp £1.40