Many consumers made the most of the Big Night In occasion during lockdown, particularly with the closure of restaurants, pubs and bars, instead turning to their local convenience store to stock up on their favourite food and drinks. But now that lockdown restrictions have been lifted and the UK is able to socialise more freely, how can retailers continue to capitalise on this occasion? Nestlé UK & Ireland takes a closer look.
The Big Night In has long been an important consumption opportunity for confectionery, with sharing bags and chocolate blocks ideal for such occasions. In fact, 66% of all chocolate sharing bags are consumed during the evening, their format making them perfect for dipping into and sharing with friends and family1.
Sales of key Big Night In confectionery formats are growing
While the pandemic and lockdowns have impacted confectionery sales this past year, some positive growth has been seen now the restrictions are easing and there are more 'feet on the street'.
Sharing formats proved popular in 2020 as shoppers made fewer shopping trips but bought bigger baskets. Sharing bags appeared in an additional 30 million baskets in 2020, while chocolate blocks appeared in an additional 81 million baskets with an additional 1.5 million new shoppers buying into the format2.
Sales of confectionery sharing bags are now worth a huge £1.6bn and have grown by 2.3% in the past 12 months, while the chocolate blocks segment is worth £941m and has grown by 4.7%3.
Stock the right range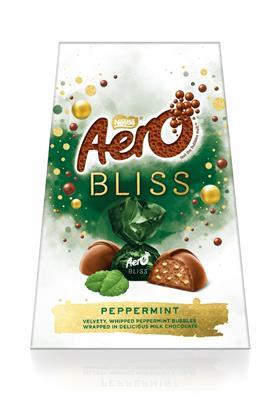 To capitalise on the Big Night In occasion retailers should first and foremost ensure they are stocking the best sellers from big brands. Ensuring variety is also key and retailers should look to big brands that offer a point of difference to the category. For example, Milkybar offers a white chocolate option in both bags and blocks, while Aero Peppermint offers a mint option. Retailers can maximise sales by ensuring that they range products like these so that they do not lose shoppers by simply having products that are too similar in taste/texture profile.
New news in the category is also certain to capture shoppers' attention. This year, for example, Nestlé UK & Ireland has introduced an exciting addition to the sweet snacking market – Combos, a delicious combination of tasty treats available in three different varieties, each featuring one of Nestlé's most popular confectionery products:
Aero – Smooth Aero bubbles meet crisp, chewy toffee popcorn and melt-in-the-mouth dark chocolate malt balls in this mouth-watering mash-up.
Rolo – A must-try medley of delicious Little Rolos, melt-in-the-mouth fudge bites, and chewy toffee popcorn.
Milkybar – A cracking combination of creamy Milkybar pieces, deliciously chewy toffee popcorn and crunchy milk chocolate digestive balls.
Aero Combos are available in a 120g sharing bag, Rolo Combos in a 125g sharing bag and Milkybar Combos in a 110g sharing bag (all RRP £2.50).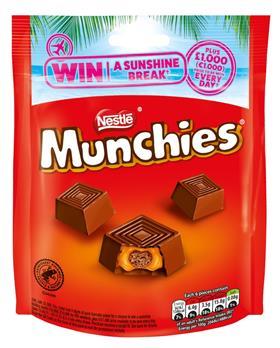 Also, brand-new to the market is an exciting new flavour to the much-loved Munchies brand. The newest Munchies variety features a salted caramel fudge flavour filling and biscuit centre, covered in milk chocolate. Available in a 97g sharing bag (RRP £1.59), it joins the existing range, which comprises original Munchies, Munchies Cookie Dough and Munchies White.
Capitalise on promotions
Nestlé confectionery is offering shoppers the chance to go from sofa to sunshine with a brand-new 'Win a Sunshine Break' on-pack promotion which features especially on sharing formats to help drive the Big Night In occasion.
The promotion has five top prizes of a holiday worth £10,000 up for grabs, plus a further prize of £1,000 to be won every day during the promotional period. With holidays being off limits during the Covid-19 pandemic, the chance to win a sunshine break is expected to appeal to many shoppers. The 'win now, book later' prizes also ensure winners are able to book their holidays while following government guidelines for travel.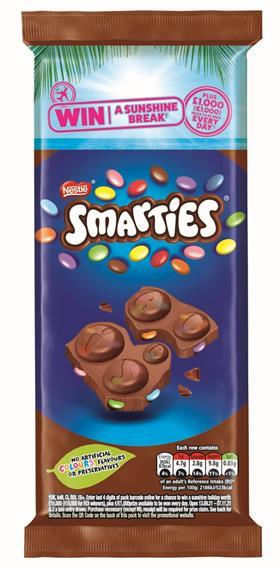 The promotion features across the sharing formats of some of Nestlé's biggest confectionery brands, including Milkybar, Aero Munchies, Smarties and Rowntree's. Stocks of promotional packs are available now and the promotion will run until 7 November 2021.
'Win a Sunshine Break' will also benefit from a media campaign aimed at driving shoppers into stores, which will centre around out-of-home poster advertising and social media. This media is expected to be seen over 20 million adults4.
"We expect 'Big Night In' occasions to continue be popular as people make up for lost time getting together with family and friends, and sharing confectionery such as bags and blocks plays a key role in these occasions," says Helen Bailor, shopper marketing manager at Nestlé Confectionery. "Add this together with the chance to win a long-awaited holiday, and we believe our 'Win a Sunshine Break' promotion is certain to capture shoppers' attention and drive increased sales of these popular formats in-store."
Make the most of merchandising opportunities
With lockdown restrictions now eased, retailers can continue to capitalise on sales from sharing bags and blocks by focusing on the consumer occasions these are suited to. Having had a sustained period of time where lockdown has restricted family and friends getting together, the desire to spend time together is now greater than ever.
Retailers should therefore look to cross-merchandise social sharing categories together – such as sharing bags, chocolate blocks, sharing crisps, beers, wine and spirits (BWS) etc – and highlight the occasion through POS, focusing on occasions such as the Big Night In and offering shoppers the complete sharing solution. This could also be centred around key calendar occasions, such as sporting events for example.
Don't miss out on seasonal opportunities
As part of its Christmas range for 2021, Nestlé has launched some innovative new products ideal for the Big Night In sharing occasion (see gallery below).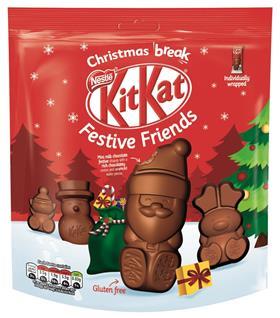 After proving a smash hit with consumers when it launched last Christmas, KitKat Santa is back with a brand-new product, the KitKat Festive Friends Bag 220g (RRP £3.50), which comes filled with individually wrapped, fun, festive shapes and is ideal for sharing with friends and family. There are 12 mini KitKat Santas and a mix of 10 other shapes (including a Christmas tree, elf, gingerbread man, snowman and reindeer) in every bag. The new bag joins the 29g impulse bar (RRP £0.65), a 5-bar multipack (RRP £3) and a 55g bag of individually wrapped mini Santas (RRP £1).
The launch of KitKat Santa – a Santa-shaped chocolate bar filled with a rich chocolatey centre and crunchy wafer pieces – was a huge success with consumers and it became the No.1 product launch across the market at Christmas5.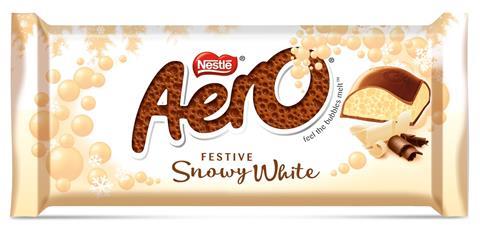 2020 saw an increase in consumer demand for seasonal bags and blocks. Indeed, in the convenience channel, sales of seasonal blocks grew an impressive 43%6. This Christmas, Aero aims to capitalise on this popularity with its brand-new Aero Festive Snowy White Block (RRP £1). The new block follows the successful launch of Aero Dreamy White Snowbubbles last year and features the same white and milk bubbly taste sensation, with a white centre enrobed in milk chocolate. The Aero Dreamy White Snowbubbles 80g bag (RRP £1) also returns to the range for 2021, after becoming the No.1 new bag launch at Christmas last year7.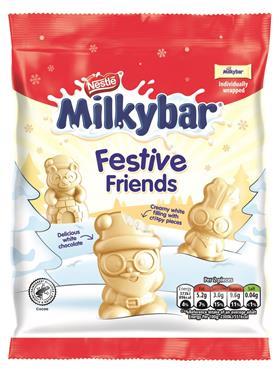 Milkybar is also set to unveil its brand new Milkybar Festive Friends Sharing Bag (RRP £1) containing an array of white chocolate festive shapes with a creamy white filling and crispy pieces, individually wrapped to retain freshness and quality. Each bag contains seven pieces from an assortment of seasonal shapes such as a gingerbread man, bauble, Christmas tree, stocking, snowman and Santa. This new launch offers shoppers a totally unique white chocolate product and makes an ideal treat for sharing, as an advent filler, baking decorations or stocking filler.
Retailers should be sure to stock the seasonal impulse treats early in the season as an eye-catching introduction to Christmas.
Sources
1 Kantar Wordpanel Usage 52 wks to 23.04.17
2 Kantar Worldpanel, Take Home Confectionery 52 w/e 27.12.20
3 IRI MAT Total Market to 14.08.21
4 Zenith
5 IRI 20 w/e 26.12.20, Value sales
6 IRI, Symbols & Independents, 20 w/e 26.12.20 YoY
7 IRI, Symbols & Independents, 20 w/e 26.12.2