Energy drinks are now worth £1.47bn. Find how to capitalise on the continued evolution of the category and why it is key to exciting new and existing shoppers, while meeting changing consumer demands.

Monster is turning 20 this year, and is the driving force behind growth not just in the energy category, but in the whole of soft drinks1.
When energy drinks first hit the GB market in the late 90s there were only a few products available. Fast forward to the present day, and the energy drinks segment has turned into an unstoppable force with flavours, juice blends, nutritional benefits and drinks for every occasion.
The segment is now worth £1.47bn1 in GB (£549m in convenience2) and is going from strength-to-strength, making it an important area for convenience stores to focus on. And a lot of that is down to Monster.
The Monster brand was born in California 20 years ago, and arrived in Great Britain in 2007. In collaboration with CCEP, Monster has risen from challenger brand status in GB to become the no.1 deliverer of value growth in the whole of soft drinks3, adding nearly £100m of value in the past year alone (+28.5%)4.
Getting your store in on the action
While Monster and CCEP are a strong partnership, it's not the brand or the distributor getting products into shoppers' hands, and putting energy drinks sales through the tills.
That part's down to retailers, but CCEP and Monster are on hand to help, sharing decades of insight and experience – including through their www.SalesSupercharged.co.uk initiative, which is back for 2022.
The site's packed with tips, advice and insight to help retailers boost sales during Monster's 20th anniversary year and beyond – not to mention the chance to win a money-can't-buy prize of a VIP weekend for two to the Valencia MotoGP in November*.
And new for this year, you can hear from three convenience retailers who've supercharged their sales already – Amrit Singh from H & Jodie's in Walsall, Stephen Spilsted from Westbourne Village Shop in Emsworth, and Lucy Costello from Daniel House Supermarket in Bootle.
Amrit Singh shares his top tips for supercharged energy sales in store:
Back your winners – Kick out slow sellers and stock key brands in the core energy drinks sub-segments, with double facings of the most popular variants.
Help the shopper – Group brands and sub-segments together, and use signage to make finding the right product easy.
Keep it fresh – Drive incremental sales by stocking innovative new products, like Monster Ultra Watermelon, Monster Ultra Gold and Monster Juiced Khaotic.
Use layout to your advantage – Energy drinks are big drivers of impulse sales so it's important to have them in several locations. Monster branded coolers, display units and signage are a great way to gets your sales flying!
Pack formats – My customers love a price-marked pack and as economic challenges continue, visible value is likely to keep appealing to shoppers.
Pump up the excitement – Activate in-store promotions to get customers in on the action and to create maximum impact at point of sale. Supporting materials for Monster promotions are available at My.CCEP.com.
Great taste: the secret of success
In 2017, Monster's Energy Vision identified taste as one of the biggest drivers of growth for the energy sector.
And the success of the great-tasting and ever-expanding Monster Juiced range – worth £84.5m in convenience and in 32.3% growth5 – demonstrates that this was spot on.
Monster Khaotic, a shake-up of one of the original Monster Juiced variants launched more than a decade ago, burst onto the scene last month – wrapped in a bold and bright packaging design created by legendary street artist RISK.
And a refreshed Monster Assault has joined the core Monster range this year, bringing full-on flavour and a standout can design to the fixture.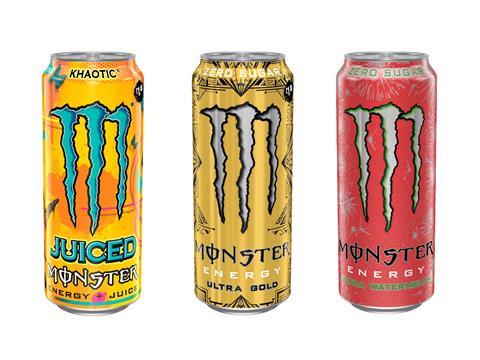 All the flavour, none of the calories or sugar
2022 has also seen the addition of two exciting new flavours to the popular, HFSS-compliant Monster Ultra range – which remains the No.1 zero sugar energy drinks range in GB, up a massive 36.1% in value6, and worth over £37.4m in convenience7.
So far this year, Monster Ultra Watermelon and the pineapple-flavoured Monster Ultra Gold have hit shelves. And Monster Ultra Watermelon is already worth nearly £2m in GB8.
The continued evolution of the category is key to exciting new and existing shoppers, while meeting changing consumer demands for different flavours and functional ingredients, to enjoy on different occasions.
*GB convenience stores only. Promotion opens 21.03.22-30.06.22. To enter the draw, complete the form on www.SalesSupercharged.co.uk. 2 winners randomly drawn will each win a pair of tickets for a VIP weekend at the Valencia MotoGP with Monster for 2 adults. Prize includes flights from London and 2 nights' stay in a min 3* hotel, travel to and from Valencia MotoGB, meals and hosted race day tickets for 1 day. Max 1 entry per retailer. Full rules at www.SalesSupercharged.co.uk. Promoter: CCEP GB
Source
1 Nielsen (Home Channel), Value MAT, total GB to 01.01.22
2 Nielsen, Independents and Symbols, MAT Val to 26.03.22
3-4 Nielsen, Total GB excl. dis, MAT val w/e 26.03.22
5 Nielsen. Independents and Symbols. MAT Val to 26.03.22
6 Nielsen. Total GB incl dis. MAT Val to 26.03.22
7-8 Nielsen. Independents and Symbols. MAT Val to 26.03.22