With the cocktails category booming, Funkin Cocktails' marketing director Ben Anderson looks at its success and shows how c-store retailers can use this momentum to boost their sales over the summer months.
Booming cocktails category
The ready-to-drink (RTD) market has seen an undeniable boom in the past few years, now worth £500m1 and continuing to grow at 5% YOY2, proving a thirst for drinks that combine ease and flavour isn't slowing down any time soon. Cocktails are also making up a significant portion of the success in the off trade, currently worth £94m3 and recording a huge 28% growth YOY4.
Funkin Cocktails has seen evidence of this success in its own performance, too, as it recorded its biggest ever week on sales of cocktail cans in the run-up to the Platinum Jubilee, with a 44% increase vs. the previous week5.
So, with demand growing, it's important to look at the cocktail variants consumers are gravitating towards in order to satisfy their needs. Taking inspiration from drinks that are proving popular in the off trade will ensure retailers are keeping up with the current trends while also offering something for everyone.
The top flavours (detailed below) are key to repeat purchase, with £1 in every £3 spent on cocktails being attributed to Passion Fruit Martini variants6. Taking this lead and stocking a full range of Funkin Cocktails, the No.1 cocktail brand on the market7, will ensure consumers are able to find the right product to suit the occasion they're shopping for this summer.
The top 5 cocktails in the off-trade8
1. Passion Fruit Martini – 34%
2. Mojito and Flavoured Mojito – 11%
3. Daiquiri and Flavoured Daiquiri – 10%
4. Piña Colada – 8%
5. Espresso Martini – 4%
Taking seasonality into account is also important as, naturally, there are options that will resonate with consumers at key times of year. Looking to important cultural events this summer and pairing these with relevant cocktails – such as Wimbledon and Strawberry Daiquiri or Carnival celebrations and Piña Colada – is likely to inspire consumers to make a drinks choice in line with the atmosphere surrounding them. Summer also brings a range of outdoor drinking opportunities and celebrations – a factor that's important to take into consideration when deciding which pack sizes to stock. With £80.5m now being spent on larger packs of RTDs and £10m being spent on larger packs of cocktails YOY9, shoppers are likely to be looking for a convenient way to stock up for a range of summer activities with friends and family.
Inclusive cocktails
Funkin Cocktails, which has seen growth of 71% in value sales in the past year10, is on a mission to create inclusive cocktails by showing that the same great taste and bar-quality cocktails can be enjoyed with minimum cost and effort.
A large part of Funkin Cocktails' growth can be attributed to the success of its award-winning range of cans and 700ml bottles. Doubling in size over the last 12 months and contributing over £5.5m to the category11, the Passion Fruit Martini, Strawberry Daiquiri and Piña Colada bottles, all at 10% ABV, are ideal for entertaining at home with friends - a trend the company has seen grow substantially over the past few years. The Funkin Price Marked Packs have also seen great growth, especially for the Passion Fruit Martini, Strawberry Daiquiri, Piña Colada variants.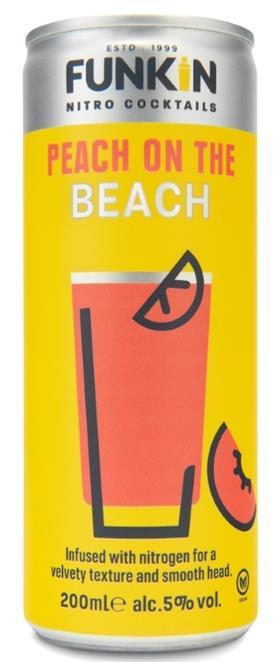 This April, Funkin also launched two new flavour additions for the warmer months: Peach on the Beach, a twist on the classic Sex on the Beach, and Long Island Iced Tea. With a blend of peach, cranberry and orange juice, and a kick of vodka, Peach on the Beach comes in a nitrogen-infused can, with the technology guaranteeing a velvety, smooth texture. Also available in a bottled 700ml Bartender Edition at 10% ABV containing five servings, users simply need to chill, shake, and pour over ice to achieve a top-tier cocktail at home.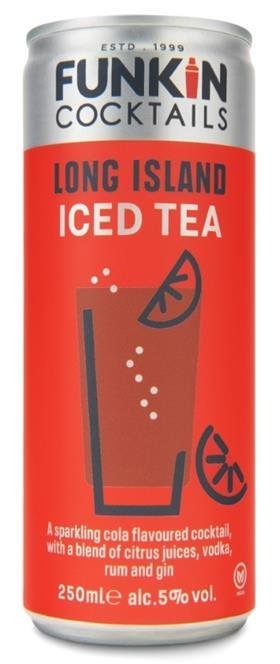 The brand's Long Island Iced Tea contains classic cola, a hint of citrus fruit and a trifecta of vodka, rum and gin, making it a sure win for cocktail connoisseurs.
Funkin Cocktails' biggest ever investment in advertising
Following its NPD launch in April, Funkin also announced its new creative with a £4m national above-the-line advertising campaign in May, 'It's Funkin Time'. Following the strength of its sales in 2021, with stats showing £1 in every £5 spent on RTD cocktails to be attributed to brand products12, the company felt it was the perfect time to launch the campaign.
The consumer campaign creative focuses on its Funkin Cocktails Queen, hoping to inspire consumers to celebrate their small wins, wherever they are, with Funkin Cocktails. The campaign kicked off in May, and TV adverts began airing this June.
With the ATL campaign helping to boost Funkin Cocktails' profile even further and encouraging consumers to buy the brand this summer, stocking a range of Funkin means retailers can ensure they're meeting shopper demand and catering to impromptu drinking occasions during the warmer months.
Funkin Cocktails is available in all leading, grocery, convenience and wholesale stores.
Visit www.funkincocktails.co.uk now to find out more about the brand's products.
Watch Funkin Cocktails, It's Funkin Time https://www.youtube.com/watch?v=aw7oGAbDoHU
Source
1-4 and 6-11 Nielsen, Pre Mixed Alcoholic Drinks, Total Coverage, Data MAT to 09.04.22
5 Grocery Mults EPOS Sales Out
12 Nielsen, Pre Mixed Alcoholic Drinks, Total Coverage, Data MAT to 12.03.22