Flavoured milk brand Yazoo has created a new flavour - Choco-Hazelicious - to refresh the category and drive sales.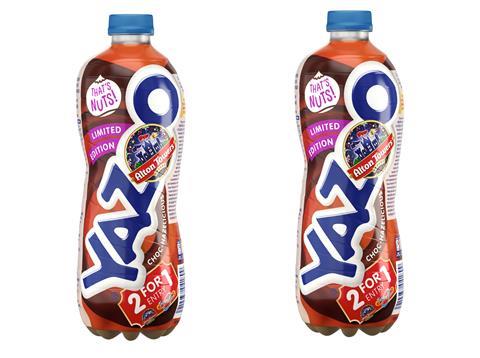 The nutty flavour is the third limited-edition Yazoo has launched in the past two years. Choc-Mint and Choc-Caramel respectively generated £1m and £1.2m of sales for the brand within just five months, the company reports.
Choco-Hazelicious has no allergen risk and so is suitable for nut allergy sufferers. It is also available in four different formats to ensure it can be consumed both on the go and at home. The 400ml standard pack and matching £1 pricemarked pack will be accompanied by a 1ltr format (standard and pricemarked), for sharing. Yazoo's 1ltr milk drinks are currently growing ahead of the market rate at 31% year on year, it says.
Yazoo business unit controller (OOH) Wayne Thompson added: "We know limited-edition products perform very well and we want to ensure that Choco-Hazelicious is so popular, people are coming into store actively seeking it out.
"We undertook extensive consumer research to help us reach a conclusion on the right flavour for this limited-edition launch. As 48% of flavoured milk sales are chocolate based, we knew this should inform our choice. We surveyed 2,500 people, garnering their opinions on 32 different flavour options, and chocolate hazelnut came out as one of the top three, We're really confident it delivers on taste and will bring excitement to the category this spring."
Choco-Hazelicious is available from Bestway, Batleys and Booker.