Dan Brown, md for Nisa Local Pinkie Farm in Musselburgh, Scotland, says investment in a pizza and ice cream counter as well as greater access to the Co-op own label have helped him increase sales over the summer.
He says: "We just finished a major refit of our store a few months ago, which focussed on improving our chilled and food-to-go ranges, so sales have been pretty strong since then.
"We introduced homemade pizzas and an ice cream counter to go alongside our hot food, fresh sandwiches and on-to-go drinks. We also replaced our local coffee machine with one from Costa and expanded our range to offer people hot meals in the evening.
"We've got quite a good mix with our offering so we do attract lots of different people. Before we added in the pizza counter and ice cream, we got a lot of workmen coming in for our breakfast rolls while they worked on all the houses that are being built close to the store.
"We also got a lot of young mums coming in before school but now we get a lot more young people, kids and workers who come in later in the day for a slice of pizza and a scoop of ice cream.
"Our updated range has really helped us reach new customers and increase our profit margins and sales across almost every category in the store. All the stuff going on with Co-op and Nisa has also really helped us and improved our overall offer.
"Being able to stock so many products from the Co-op own label means that our range is on a par or even better than the equivalent products offered by the major supermarkets.
"Customers seem to really like the way the store is moving and appreciate the wide range of fresh and chilled lines that we now have in the shop, as well as our food-to-go.
"We have a primary school down the road from us so we get even more trade from them at this time of year, as the kids start back for a new term. Working closely with them with out community find from Nisa helps us increase sales too."
Star performers: "Since we relayed and refitted the shop earlier this year, food-to-go has been the main winner because we now offer a much broader range that appeals to more people."
Successful NPD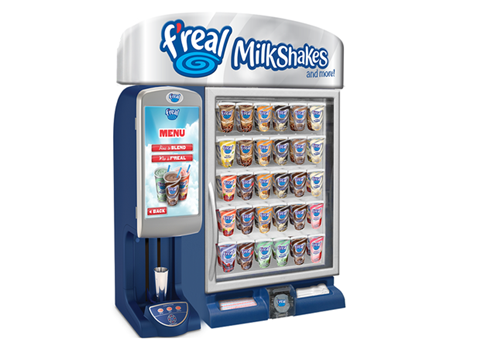 "As part of the changes to our food-to-go, we recently added a F'real milkshake machine to the store to go alongside our Costa Coffee and Skwishee machines.
"The machine has only been in for a few weeks but it has already been well-recieved by customers and it all helps to develop our food-to-go even further with additional sales."
F'real launched its self-serve milkshake machine into the UK convenience channel last year.
The touch screen controlled unit allows consumers to prepare ice cream milkshakes in sixty seconds and choose in a thickness of their choosing. Flavours include: vanilla; strawberry; chocolate; and cookies & cream.
The shakes are made using no artificial colours or flavours and this year the company has expanded its range with a trio of smootie flavours, including: stawberry & banana; mango; and passionfruit, to tap into demand for ligher drinks options.