Warburtons is going big with its new launch as the company introduces its first ever range of full-size bagels.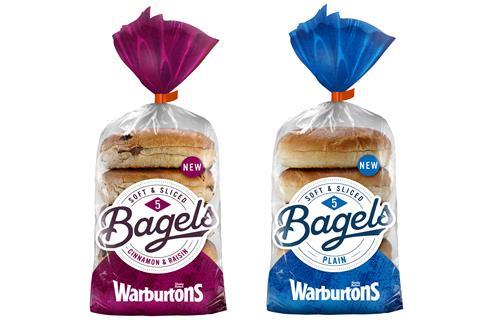 Sold pre-sliced and available in two flavours: cinnamon & raisin and plain, the new products are boiled and then baked using a traditional cooking process to create a soft and chewy texture.
Darren Littler, innovation and product marketing director at Warburtons, said: "We are delighted to be expanding our portfolio and helping to drive growth in the bakery category with such a high-quality product. Unlike most on the market, our bagels are pre-sliced making them really convenient for consumers.
"They also offer a great sandwich alternative whether toasted or un-toasted and can be enjoyed with a variety of fillings. Alongside our already popular Warburtons Thin Bagels, our new range offers a versatile snack and will be key in helping retailers expand their bakery repertoire."
The new 80g bagels come in packs of five and are available to convenience stores with an rrp of £1.60 per pack. The line-up is set to be advertised on TV later this spring by Hollywood actor Robert De Niro.